Aiden Lewis- 8th Grader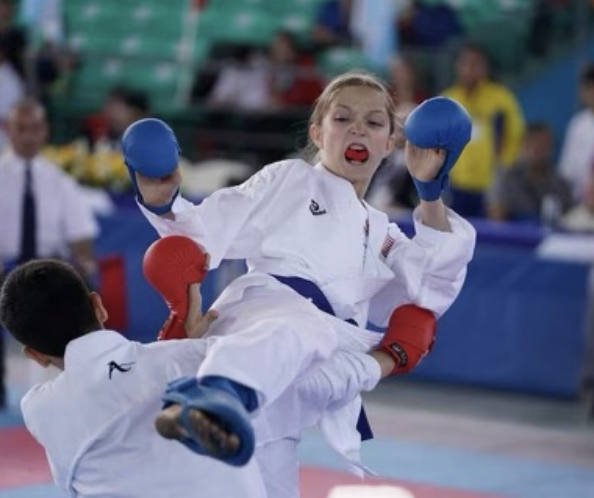 Aiden Lewis is a bright, intuitive theater actor and national karate champion. Lewis does all this while still being a beloved 8th grade student and friend to the intellectuals here at Rio Norte. Lewis was introduced to acting at age 7 and Karate at age 10 and it has been his passion ever since. Aiden hopes to one day work with Wess Anderson who directed award winning films like The Grand Budapest Hotel, and Moonrise Kingdom and Quentin Tarantino an adored director who has a star on the Hollywood Walk of Fame. Although some struggles with
COVID,
Lewis stays productive and happy by keeping busy with school, acting, and karate.
Q: How has COVID-19 affected your acting career and karate ?
A: It has definitely been strange and different, I have to do all of my training and drills at home and take online lessons with professionals for the Karate portion. For Acting I can only do scene work with other actors online everything is online and through zoom.
Q: How do you balance school, sports, and acting?
A: I go to school online, get my homework done, study if I need to, I have time set aside for karate and acting in the day. There is not a very specific schedule but time is set aside for everything.
Q: What is the funniest experience you have had with karate?
A: The funniest experience I have had I guess this kind of counts, there is a karate US open and people from different countries like Canada. I won my first two rounds and when I got to my third round I was fighting a guy who was 13, much taller and he was in one of the heaviest weight categories, I was 12 and a lot smaller than him. We tied for the first point and then he whooped me for the next point. I was just like yep your 6ft and a lot better than me, I expected this.
Q: What were some of the struggles you faced for acting and karate?
A: I always have so much fun when doing acting, even the small things are still very exciting. Some struggles were learning new information and setting goals. For karate I skipped from beginner to intermediate and then right from there moved up to the elite division and it was hard to stay to play catch up since I jumped around a lot.
Q: What do you want to be when you grow up?
A: That's a great question, I would really like to be in the theater and film industry. Specifically an actor but I have taken an interest in writing and directing.
Q: What have you learned from your experiences?
A: In karate, I have learned that if you want something you have to push yourself although it is not always fun, you always have to persevere and push yourself even when it's not fun. With acting it has given me more empathy and a higher emotional IQ and I have learned more about the human mind.
Q: What is your favorite karate move?
A: I really like doing the roundhouse kick, it is a technical and controlled move and I really enjoy that.