Top 15 worst McDonalds Toys
McDonald toys have been apart of everyone's childhood. McDonalds has made a few mistakes, but thankfully now they are better than before.
Michael Jordan fitness fun: This collection comes with a small football, basketball, and baseball which all deflated easily. It also came with a jump rope way too small for most kids. Probably the worst out of all of them though was the 30 second stop watch that didn't even work half the time. 
Ronald McDonald face mask: McDonalds created a creepy face mask that had Ronald McDonald on it. Not only was this toy capable of giving little kids nightmare but this "toy" is literally made out of cardboard. This cheap mask is probably one of the laziest McDonald's has been with their toys. 
Mighty Ducks Pucks: In 1996, McDonalds came out with these cheap Mighty Duck inspired hockey puck toys with a Mighty Duck figurine on top. However, McDonalds actually advertised you could play hockey with them, but they were way to cheap and fragile. 
Space Rescue toys: McDonalds came out with space rescue toys a new cool design. The only problem with it was McDonalds thought it would be fun to make it challenging, so kids would have to find out how they worked. However, McDonalds made it way too challenging, so kids got frustrated and couldn't figure out how the toy worked. 
Sky dancers: Most of these toys came brocken and couldn't even stand straight on their stand. The ones that did end up working though could easily hurt kids since they were made out of plastic.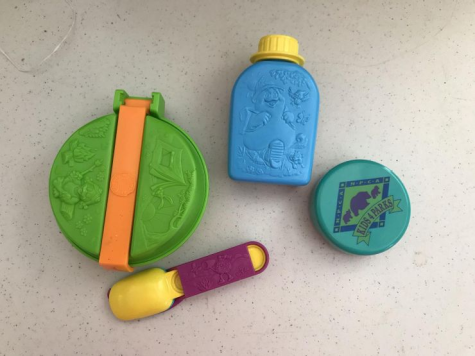 Camp McDonaldland: Every kid loves going camping during the summer, so McDonalds came out with Camp McDonaldland supplies. The collection consists of a small canteen that couldn't hold much water, small plastic utensils, a cup, and a plastic frying pan.
Toothbrush and toothpaste: This is probably the worst one on the list. McDonalds came out with toothbrush and toothpaste. Imagine being excited for a toy and finding a toothbrush and toothpaste. 
Airport toy: Mc Donalds released these fun color miniature planes. However, these planes were made of cheap plastic and didn't even have a single moving part. 
Idol Mp3 Player: It basically looked like an old ipod that promoted Idol a singing competition show. However, instead of using cool songs it only played the theme song, and left kids disappointed.
Ronald McDonald Glove Puppet: The Ronald McDonald was a poorly designed glove that had the mascot on it. It was only handed out when McDonalds ran out of  the real happy meal toys.
Shark Tale jellyfish: This was a weird and ugly piece of plastic was a jellyfish that was definetley not fit for kids. 
Step it Happy Meal toys: The Step-it happy meal toys were fake watches that had a sticker making it look like a watch but instead held a tiny compartment that only a penny could fit in. Not only were kids disappointed, but the "toy" didn't even have a purpose. 
Ronald McDonald sunglasses: The Ronald McDonald sunglasses were truly terrifying.  The creepy mascot was on the top of the sunglasses.  
Gardening tools: McDonalds came out with gardening tools. It came with a plastic trowel and a plastic shovel, it also came with seeds. This McDonalds "toy" was really disappointing, and the shovel and trowel were to cheap to work. 
Swearing Minion happy meal toys: McDonalds came out with a collection of fun minion toys. However, many parents claimed the minions were swearing even though they were supposed to speak the minion language. After many complaints the minion toy was quickly replaced.
Even though, McDonalds has had some horrible "toys" over the years, McDonalds continues to learn from their mistakes and get better.