Filipino Foods
In Rio Norte there are many people of the asian ethnicity, including Filipinos. The Philippines is an island country that is found in Southeast Asia in the Western Ocean. The Philippines is considered an archipelago (a group of islands), and has over 7,000 islands and stretches about 500 miles (800 km) off of Vietnam. The capital of the Philippines is a global city called Manila. The most-populous city is called Quezon City and it's near Manila. Both of these are part of the National Capital Region which is found on the island Luzon. Luzon is the largest island of the Philippines. There is something called Metro Manilla and it's a bunch of cities and municipalities in close proximity to each other. Metro Manila consists of the cities of Manila, Quezon City, Caloocan, Las Piñas, Makati, Malabon, Mandaluyong, Marikina, Muntinlupa, Navotas, Parañaque, Pasay, Pasig, San Juan, Taguig, and Valenzuela.
Adobo is a traditional Filipino dish. It is a steak that is usually stew using chicken, pork, or a combination of both, along with soy sauce and vinegar. Adding peppercorns on the meat also adds special flavor. If you pull the meat from the bone and fry it till it's crispy then you can make something called adobo flakes. Adam, a 7th grader at Rio Norte says "Adobo is tasty and traditional to the Filipino culture."
Pork Skewers are a popular street food that can be found in many different cities in the Philippines. The pork skewers have a maranation that is made with a soda (7-up or Sprite), soy sauce, vinegar, brown sugar, garlic, and banana ketchup. Then you add chili oil with black bean sauce and also with distilled vinegar. After you have all those ingredients including brown sugar, oyster sauce, ground pepper, and lots of garlic then you add them to a large mixing bowl. Once you have mixed all the ingredients thoroughly, you start to add the meat.
When you pick the pork for the BBQ skewers you want to choose pork butt or the pork shoulder because it has a really nice combination of lean and fat.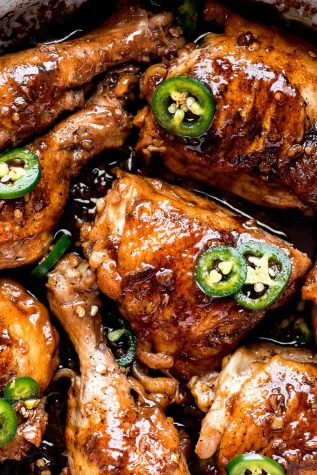 Halo Halo is a dessert from the Philippines that means "mix-mix". The dish consists of shaved ice and condensed milk with many ingredients put into the mix. The ingredients that you can put into Halo Halo can have different textures. For example it can be crunchy, chewy, creamy, or sticky. In a main Halo Halo dish you can find the most common ingredients that people put in there. The ingredients are jellies, flan, macapuno, palm seeds, sweetened red beans, shaved ice, ube ice cream, fresh fruit, toasted coconut flakes, and pinipig. You can find the best Halo Halo in Metro Manila inside a couple places. Some of those places are Max's Restaurant – Greenhills Shopping Center, Milky Way of Malate – Tuscany Estates, and Sentro 1771 – Capitol Commons. One of the ingredients that was listed was called "Ube Ice Cream". This has to be one of, if not the most common ingredient you see in Halo Halo. Ube Ice Cream or just ube in general is boiled and smashed purple yam. In the Philippines you can find ube cake, donuts, or bread because ube is popular in the Philippines.
In conclusion, Filipinos are very common in Rio and around the world. The Philippines has an interesting history and location. If you ever visit there you should go to Cebu (Urban Area), Bohol (Rural Area), or Palawan (Suburban Area) so you can get a feel for all different areas and you can try different kinds of foods corresponding to that type of area.