Halloween Time at Disneyland
It's that time of the year! Disneyland has now decorated the theme park to be Halloween-themed. Both California Adventures and Disney Park in Anaheim California are decorated with this theme.
Disneyland redecorated the parks on September 2nd, and it will end on  Oct. 31st which is also Halloween. Disneyland first started to decorate the park's Halloween theme in 1996. It was called Mickey's Halloween Treat. It was changed in 2005 to Mickey's Halloween Party. It stayed that way for 2 years, then changed again to Mickey's Trick-or-Treat Party. Now, Disneyland has a range of seasonal meet and greets and newly decorated attractions and parks. The price for these tickets starts at $104. If you choose to park hop, which means you are able to go to both parks on the same day, it will be an extra $60. This doesn't include the cost of food or buying any merchandise from the shops.
At the Oogie Boogie Bash, you can dress up in your costume and go trick-or-treating after the park is closed! It is located in California Adventure. But, it is currently sold out! If you want to go, you must order these tickets a few months in advance, for if you wait too long, it may be too late to go. The Oogie Boogie Bash is on select nights in September and October. It starts at 6:00 PM and goes to 11:00 P.M. At this, you can take many photos with characters, watch shows, and ride the spooky attractions. There is also a spooktacular parade to watch. To learn more, head to the Disneyland website.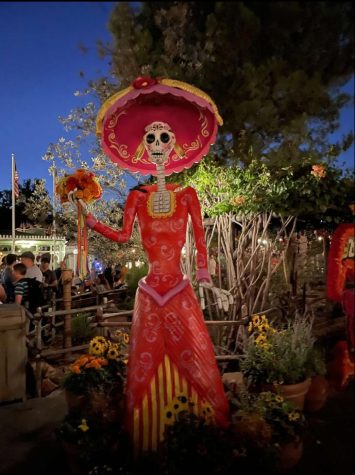 One of the main things that changed at the Disneyland resort is the Haunted Mansion ride. It is now themed after the movie made by Tim Burton, Nightmare before Christmas. It is a slow, dark ride that is about 9 minutes long. The outside is completely decorated with pumpkins, scarecrows, and many more spooky decorations. This isn't the only ride decorated with a Halloween theme. In California Adventure, Cars Land has rides that are Halloween-themed, as well as the whole land. Luigi's Honkin' Haul-O-Ween ride, which used to be called Luigi's Rollickin' Roadsters, has changed to a Halloween theme. And, Mators Graveyard JamBOOree. Going back to Disney Park, in Adventure Land, there is now a Plaza de la Familia, from the movie Coco. There, you can listen to the Oscar Winning song, "Remember Me." You can also take pictures with some of the characters. And, you can see Miguel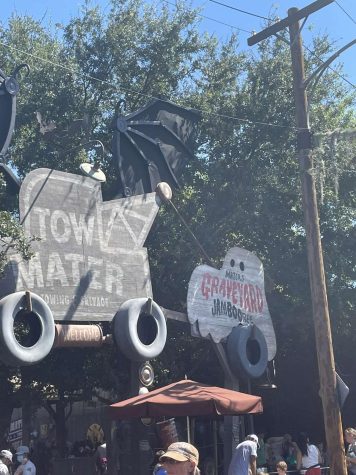 from the movie, walking around greeting people. On Main Street, it is also changed. There is a pumpkin in the middle which is a great photo opportunity. And, all the main street shops have decorations with pumpkins and banners.
I asked the students of Rio Norte a few questions. One 7th Grader named Lyrik Fisher says that she would rather go to Disneyland during Halloween time rather than sometime else. She states, "It seems like it would be more fun, especially since I don't go to Disneyland a lot." Mahi Bhuwania, another 7th Grader, says that Disneyland at Halloween time is better. "I like getting scared." She also feels that the decorations during Halloween time are better.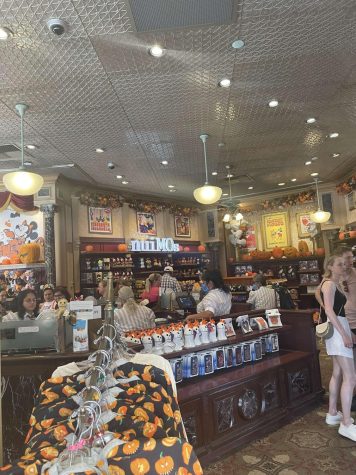 One of the best parts of going to Disneyland during October is the merch! All the shops in DowntownDisney and in the Park are filled with all different kinds of Halloween merch. It ranges from many plushies and decor for your home. There are also backpacks,  Mouse ears, and shirts. There are also costumes and many more. If you aren't able to go to Disneyland to get merchandise, you can go to the online store to get some. For treats, there are so many cookies and drinks. As well as more savory Halloween treats. One treat you can get is from the Jolly Holiday Bakery Cafe. The Jolly Holiday Bakery is to the left of the entrance to Adventure Land.  There, you can get pumpkin cheesecake and a Mickey Bat Cookie, as well as many other treats and food.
There are so many fun things you can do at Disneyland during Halloween time. So many Disney fans love this time of the year because of how well they decorate the theme parks. They always do an amazing job at decorating the theme parks for all guests to enjoy!