Georgia Teen gets Accepted into 49 Colleges
College is no easy achievement, it requires patience, responsibility, and most importantly hard work. This teen showed all of these and got into multiple colleges. Makenzie Thompson is an 18-year-old from South Fulton, Georgia. She recently applied and got into 49 colleges, along with $1.3 million dollars in scholarship offers!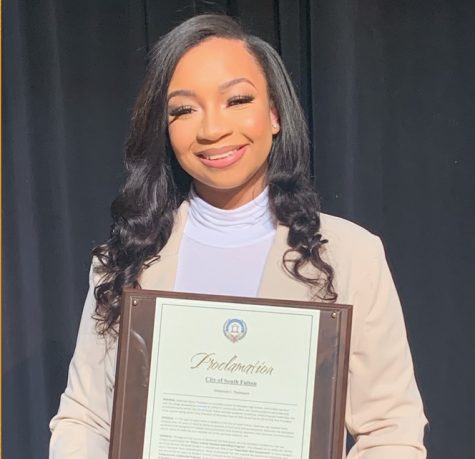 She says that the thing that most stood out on her application was her, "extracurricular activities and how involved I am in school." According to Today, Makenzie is class president, co-captain of the dance team, and manages the varsity basketball team. She is also a member of the national honor society, vice president of the Beta Club, and a community service organization. So it's safe to say she works very hard and deserves to go to a great college. 
Makenzie got into universities such as the University of Georgia, Delaware State University, Ohio State University, Xavier University, Purdue University, and many more. In the end, Makenzie chose to go to Tuskegee University in Alabama. They will provide her with books and full-time tuition. There she can study animal science and pursue her dream of becoming a veterinarian. 
7th grade English teacher, Mr.Maradkel has more advice on how to get into a good college.  When asked what is the first step in getting ready for college was he said, "The first step is to have a genuine desire to go to a top college or university. You have to really want it. If you truly have this desire while you are in junior high, you can get a jump start on creating a plan to achieve this goal. For example, the plan can be to take accelerated math or to study harder for tests, or even to study with students who are like-minded, who are mature, and take their desire to achieve great things seriously. This desire leads to a specific plan, and the rest is simply hard work to execute the plan regardless of any obstacles."
Then there are the SAT scores, he said the SAT and ACT scores are very important to determine which college you will go to, but some universities have gotten rid of the test result requirements and made them optional.  Schools like California State University (CSU) and the University of California (UC). Extra circular activities are important too. For example, Makenzie who got into 49 colleges had multiple other activities that she did.
Lastly, Mr.Maradkel shared his advice for our 8th grader going to high school, he said, "The best piece of advice is to be the best "you" that you can be. In high school, many things will vie for your attention, so you must make wise decisions as to what is a priority and what is not a priority. Anything that helps you become the best "you" that you can be and reflects your genuine desire, plan, and hard work to accomplish great things should be a priority. Everything else is a distraction and should be avoided."