Arthur Officially Ends After 25 Years on the Air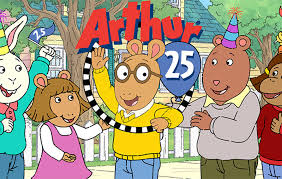 PBS kids has been the biggest part of kid's lives for many years, housing shows like Cliford the Big Red Dog, Curious George, Cat in the Hat, and many more.  The most known show on PBS Kids  however, was Arthur. The lovely show about an anthropomorphic aardvark and his fun adventures being a little kid. The reason this is by far the most well known is because it has been running for 25 years straight, with 25 seasons and 253 episodes! Every show must come to an end eventually, and on February 21st 2022 PBS kids announced the end of Arthur. 
Arthur was a big part of so many kids' lives, mostly the older generations when it first aired but many kids today are being influenced by it. For example, 7th grader Vinusha Sridhar said "It was an amazing show and I loved watching it with my cousin." She was saddened by Arthur's ending but liked how it ended. In fact, senator Ed Markley came forth and said "Thank you Arthur for helping all of us learn to work and play and get along with each other."
On the last episode of Arthur, aired on February 21st, it ended with the classic flash forward to the future, showing all the characters and what they did with their lives many years later. Then, at the very end, it is revealed that the entire show was a Graphic novel written by future Arthur. Though this ending is cliche and many argue is heavily overdone, others still believe that it was a sweet and heartfelt way to end this long running series.
Arthur will be missed by many generations old and young. Arthur was revolutionary in 
representation, with one of the first queer weddings on childrens TV and many other amazing feats. Though this era is coming to an end, producers promised "More Arthur content to come."