Recommended Movies of 2022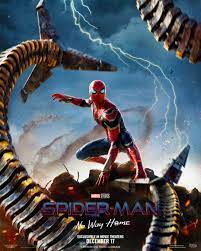 Watching movies is a good hobby for all people by taking their minds off of the stress of school. Some of the most recommended is Spiderman No Way Home or Quiet Place 2. There are also many other movies people suggest like Free Guy and even Ghostbusters After Life.
Spiderman No Way Home is now available on many apps like apple movies for $20 or even Roku for $20. This was named number 1 movie since its release December 17, 2021. This movie also made $1.69 billion dollars.
Quiet Place 2 can be streamed on Paramount Plus, Prime Video, Vudu Movie & TV Store, and Redbox. All these apps can be rented for $2.99 or you can buy it for $19.99. Quiet place 2 also won best horror film from the Golden Tomato awards. This movie also grossed $100 million. Although this movie is number 2 of the series, it explains more than the first movie. Therefore you don't need to watch the first one to understand.
Free guy is able to be streamed on Disney Plus for $7.99 monthly or $79.99 yearly. Free guy won the Golden Angel Awawrd from the Chinese Film Festival, and won best family film from the Sunset Film Circle Awards. It grossed over $121 million dollars. Free Guy also has Ryan Reynolds, who is a great comedian.
Ghostbusters After Life can be streamed from ROW8, Prime Video, Redbox., Vudu Movie & TV Store, VUDU or Apple TV on your Roku device. Ghostbusters was nominated for many awards, including the BAFTA awards. It grossed $128 million dollars. Ghostbusters was a great movie from a long time ago and brings back the Ghostbuster series for all the fans.
Movies are a good way to boost your emotional intelligence or even a way to have fun with family and friends. Movies are surprisingly good for you so when your parents say ''get off you but and go outside'' just tell them it could make you less stressed and could help you with your fears, has been proven.