Administrators' Spotlight: Ferry, Flores, and August
Norte News reporters find out more about the three leaders of Rio Norte Junior High.
Mr. Ferry
After Interviewing the principal Mr. Ferry, we discovered many new things about him. The first question that was asked was "How long have you been a principal?" Mr. Ferry responded, saying he has been a principal for a grand total of 8 years! He has worked at 2 schools in total, the order being Rio Norte, Saugus, and then back to Rio Norte.
The second question that was asked was, "Were you ever a teacher?" He answered saying that he has been a special education teacher and an asb director. Meaning, he planned fun activities for his school. We also asked "What is a random fact about you?" Mr. Ferry got a football scholarship at the University of Oregon.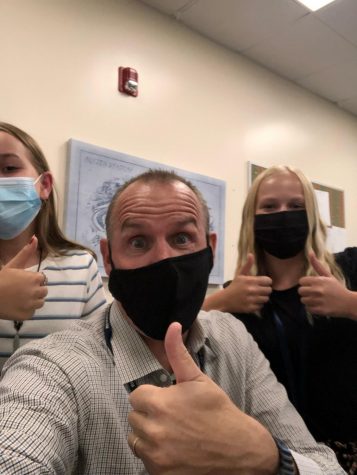 The team was, "The Fighting Ducks". "What is your favorite animal?" We asked Mr. Ferry. His favorite animal is a bald eagle. Stating that he has "Always found them fascinating". This being because of their size.
 Next, we asked, "Do you have any odd talents?" Mr. Ferry has a talent of doing things he's not specifically known to be good at. Such as, painting! He still enjoys painting. And painting with his daughter is an often hobby.
Then, we asked "If you weren't a principal what job would you have?" Mr. Ferry responded, "Something Creative," saying he might have been a movie or show director, even though he doesn't feel it would be his strongest profession.
 "Do you have any advice for your students?" He responded, "Stay away from social media".
Mr. Flores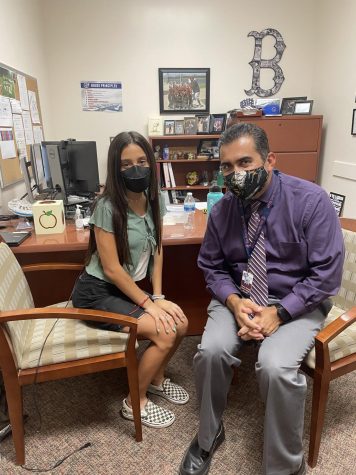 After interviewing the wonderful vice principal Mr. Flores we learned so many amazing facts about him!  
The first question that we asked him was about if he had any experiences that can help us as students and as human beings. He said you have to think outside of your bubble and there is a lot more happening than you think. He also said that people tend to pay attention to what's happening to them rather than what's happening at the moment. 
Next, we asked what motivated him to be the vice principal. He said that Mrs. White, the vice principal at his school, helped him through a difficult time in his life. This motivated him to do the same. It made him want to help people like Mrs. White did. If he weren't a vice principal, he probably would've become a police officer or a director of the boys and girls club. 
Then we asked if he had worked at any other schools. He used to teach 2nd and 6th grade, then junior high, and then at Placerita. He also taught summer school. He's been a vice principal at Sierra Vista, Golden Valley High School, La Mesa, and Valencia High School. Mr. Flores's favorite subject to teach was history, specifically U.S history.
We asked him if he had any odd or interesting talents.  He said that he's really good at fixing things and organizing things. For example, he said he can fix a washing machine or leaks in a house.
Lastly, we Mr. Flores where he grew up. He grew up in Fullerton, which is about ten minutes from Disneyland. His brothers and sisters, mother, and grandparents also grew up there. There used to be a lot of orange trees where he lived too.
Mrs. August
After interviewing Mrs. August, we learned a lot about her!
First we asked her when she first started teaching. She started in 1999 just 4 months after her second child was born.  She first went to school for teaching and when she was there she started thinking about the future. She decided to get her credential in case she wanted to move up from being a teacher. She wanted to be a vice principal because she is very good at organizing and connecting with people. She also claims that managing is her "superpower." 
Then we asked more about her family. She has two kids, so she knows every excuse and trick in the book! When she is at school she is "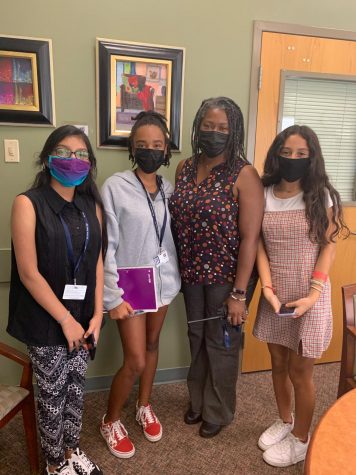 able to do the work thing then and go home and do the mom thing.
 If she were to not be an administrator or teacher, she would have been an accountant! Mrs. August loves numbers and managing money!  She thinks a lot of people might find that job boring, but she would find it fun. However, Mrs. August loves her job because she gets to be kept young and energetic when she is around kids. She thinks that "some people sleep on junior high kids" and thinks that the students are capable of much more than what others think they are.
We asked her what she does when she isn't at Rio Norte. She  likes to read, cook, and fix stuff in her free time. She explained how she
fixed her dishwasher and washing machine,  and loves helping around the house with stuff like that.
Lastly, we asked her what her Hogwarts house is since she is a big fan of the Harry Potter series. Mrs. August is a Ravenclaw. Her favorite characters are Fred and George Weasley. For anyone who knows Harry Potter you would know that the Weasley twins love pulling pranks. She also likes how Luna is so confident and doesn't care what other people think of her. Mrs. August would like to tell you to love yourself as you are. She says " I think people take too much time trying to be different, look different and dress differently and you just need to look at yourself in the mirror and love yourself as you are."