Taylor Swift, the iconic singer-songwriter, has captivated audiences worldwide with her mesmerizing performances and heartfelt lyrics. In her new "Eras Tour" movie, Taylor takes us on a remarkable journey through her various eras of music.  the captivating sections of the movie, exploring the magic behind each era and the impact it has had on Taylor's career.   
   Taylor Swift transports us back to her "Fearless" era, where she fearlessly embraced her unique style and sound. Through electrifying performances of hits like "Love Story" and "You Belong with Me," Taylor showcases her growth as an artist and her ability to connect with her audience on a profound level. We witness her transformation from a young country singer to a global superstar, leaving us in awe of her unwavering determination and talent.   
   The "Red" era marks a pivotal point in Taylor's career, as she fearlessly delves into the realm of pop music. Through visually stunning performances of songs like "I Knew You Were Trouble" and "We Are Never Ever Getting Back Together," Taylor bares her soul, inviting us to experience her raw emotions and personal growth. This section showcases her ability to transform heartbreak into empowering anthems, leaving us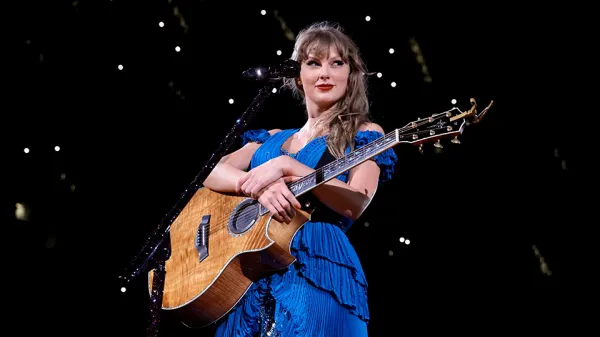 inspired by her resilience and authenticity.
   As the "1989" era unfolds, Taylor Swift takes us on a journey of self-discovery and empowerment. Through captivating performances of chart-topping hits like "Shake It Off" and "Blank Space," she embraces her true self and encourages others to do the same. This section highlights Taylor's evolution as an artist and her ability to reinvent herself while staying true to her core values. We are left feeling empowered and inspired to embrace our own individuality.   
   In the "Reputation" era, Taylor Swift confronts the challenges and controversies that have surrounded her throughout her career. Through powerful performances of songs like "Look What You Made Me Do" and "Delicate," she takes control of her narrative and rises above the negativity. This section showcases Taylor's resilience and determination to overcome obstacles, leaving us in awe of her ability to turn adversity into strength.   
   The "Eras Tour" movie takes us on an enchanting journey through Taylor Swift's musical evolution, showcasing her growth as an artist and her unwavering commitment to authenticity. From the fearless beginnings of the "Fearless" era to the empowering self-discovery of the "1989" era, Taylor captivates us with her electrifying performances and heartfelt lyrics. Through the highs and lows of her career, she remains a beacon of inspiration, reminding us to embrace our true selves and rise above adversity. The "Eras Tour" movie is a testament to Taylor Swift's artistry and her ability to create timeless music that resonates with audiences around the world.