OvO is a skill based game where players have to cross 40 different levels and reach the end. As you progress and beat levels you will need to learn different skills to beat all the levels. OvO features an in game timer so you can go back and see how fast you can win. OvO can help on a boring day where you're just at home doing nothing.
OvO's 40 levels are split into 7 different sections: basics, getting serious, higher order, mechanics, OvO space program, journey through the portal and once you beat all the main levels you can play some of the best made community levels. Basics will teach the player how to move, jump, slide, dive, how to jump higher and walls that you can smash though. The getting series section will test the players skills with tighter jumps, using a wall to double jump up, jump pads and moving objects, higher order doesn't teach anything but amps up the difficulty quite a bit. The first 3 sections are there to give the player an understanding of the game.
  The next sections get more confessing and may take the player a lot longer to finish the levels.  mechanics teaches the player about buttons that will open red doors and can activate moving objects. OvO space program introduces heat seeking rockets that shoot you when you get too close or when you hit a red button,lucky the player can outrun the rockets. Journey through the portal has you guessed it portals that can teleport the player anywhere.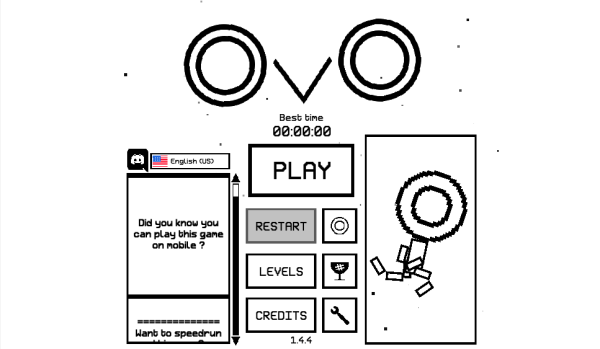 I interviewed Caleb Wood and he said "I think OvO is a fun but challenging game that can be fun to play at home." We also asked him if he has ever beat the game. He said "he has beaten level 40 but that's all." he also said he "has never played at school cause there's work to do". Overall Caleb wood said "OvO is a fun game but can be a distraction in class."
In conclusion OvO is a fun and challenging game with many different ways to play. OvO also has an amazing community that has done some amazing things like beating the game in under 4 minutes.
OvO has so many ways you can play and is a fun challenge for everyone. Overall OvO is a fun experience for everyone and can make for a great boredom killer.