Two New Trader Joe's Coming to Santa Clarita Valley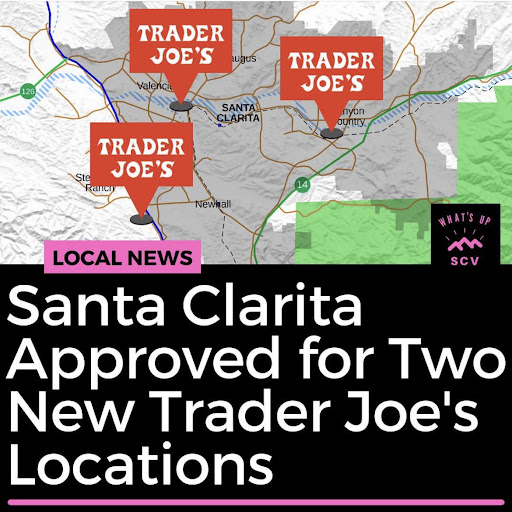 Here in Santa Clarita, we only have one Trader Joe's, located on Bouquet Canyon Road in a shopping district consisting of Hobby Lobby, Chipotle, and Best Buy. Everyone who has gone to or at least tried to go to Trader Joe's knows it's difficult, especially because of the tight parking spots and barely any parking spots being available. As well as the limited space to drive. Luckily, after years of waiting, Santa Clarita is getting two new Trader Joe's.  One is located in Canyon Country at the former Party City. The other is rumored to open up in Stevenson Ranch next to Bevmo in the former Albertsons location. There isn't an exact date of when they will open up, but it has been approved so construction will start soon.

The benefits of these two new Trader Joe's will help Santa Clarita in many ways, and can also help the Trader Joe's business. Having these two new stores can help spread out the crowds of people who love to shop at Trader Joe's, and hopefully open up more parking spaces for people who want to shop at other shops in the Bouquet Canyon shopping district. These Trader Joe's will most likely be bigger, meaning that more items will be able to be stored inside these shops. Maybe even these new Trader Joes' will have a curbside pickup, making it even easier for people of  SCV to get groceries.

With more and more people moving into Santa Clarita, and more houses being made, we need more stores around our city to make it more convenient for everyone so they don't have to drive as far to get to a certain place. This will help make our city better for everyone who lives here, and for people who come to visit.