Updates on the Russian-Ukraine War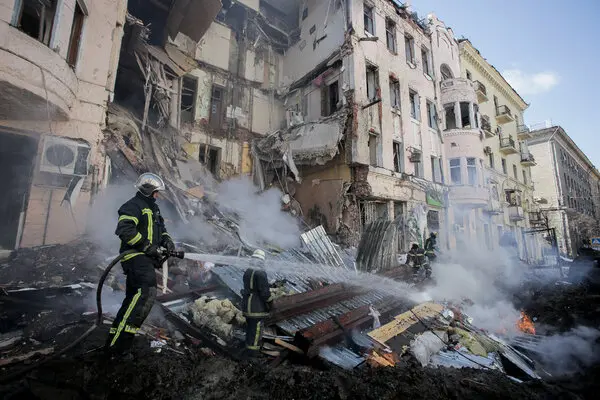 Russia's war on Ukraine has entered its second year. There has been a universal realization that the world is witnessing a long protracted conflict, the deadliest in Europe since World War II. Moscow, the capital of Russia, and Kyiv, the capital of Ukraine, are hoping against the odds for a breakthrough in 2023. People in the Ukrainian military have been fighting all this time, risking their lives not just for themselves, but for their country for more than a year now. According to the latest UN human rights office (OHCHR) data, at least 8,000 civilians have been confirmed dead with nearly 13,300 injured – since the Russian invasion on 24 February last year. But, is it possible for the total to rise? Many people are wondering, what's going on in Ukraine as of now. Has nothing changed since the first day of the invasion? What is Russian president Vladimir Putin's reasoning for invading Ukraine? As of February 2023, military aid was donated by EU institutions, 45 sovereign countries, companies, and other parties. Countries like Poland and most of Europe are assisting Ukraine as much as possible.
As of 2023, Russia has seized as much as 51,000 sq miles (132,000 sq km) of Ukrainian land. However, Russia recently lost a fifth of this. Russia now only controls 40,000 sq miles of Ukrainian land, which is 17% of Ukraine. For a size reference, Ukraine is known to be two times bigger than Italy!
Will there be peace? How much money will it cost to repair the country? All these questions float above Ukrainian's heads as the invasion passes its one-year mark. Recent news has shown that China is stepping in with a peace plan that they are confident will work to end the war. But what exactly is China's peace plan? Well, despite western suspicions the proposal is designed mainly to help Russia, it calls for formal respect for Ukraine's sovereignty, protection for Ukrainian civilians, and an end to interference with the flow of humanitarian (material and logistic assistance to people who need help) aid into the country, and condemnation of the possible use of nuclear weapons. Though Ukraine's president Vloydymyr Zelensky pledged to consider the plan, it has no chance of moving forward, because it does not require the following. Russia's invading army to leave Ukraine, does not promise a return of Ukrainian land now illegally occupied by Russian forces, and provides nothing tangible for the reconstruction of the country. An immediate ceasefire would freeze Russian gains in place, forcing Ukraine to try to persuade Vladimir Putin to voluntarily give back their land.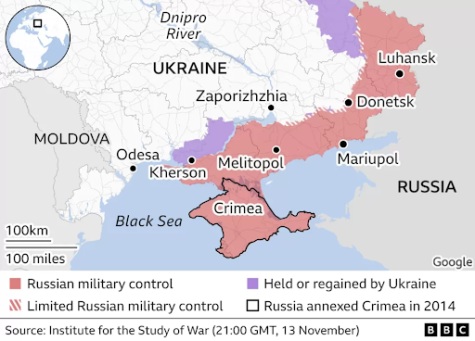 7th grader Davyd Simonyan shared his story about the war. "I remember the first day of the war when you could hear the bombs flying and the sirens wailing. Every single day you have to be ready to run out into the corridor or into the dungeon because the missiles can fly anywhere and at any hour. In the center of the city, everyone is ready to defend the Motherland, somewhere a whole regiment, somewhere a bunch of military equipment … I remember once, somewhere in May, my dad and I had to leave the city because my grandparents were not safe, they could see the military base from the window and many stops where they checked us and it was so scary there. I wanted to take a picture and show my mother what was happening and one soldier came up and pointed a gun at my father and said to remove the cameras and smash them to smithereens."
The main question that most people think about when it comes to this topic is who is winning? and who is losing? Well, you might think because Russia is the largest country in the world, they would be the obvious answer to who is winning. However, that's not the case. Landmass has nothing to do with war. The military strength and the military, in general, are what matters more. According to research from BBC news, "Ukraine claims it has killed more than 50,000 Russian troops, and at the end of August said it had lost nearly 9,000 military personnel since the start of the conflict. Russia rarely discloses its own troop fatalities. Its most recent death count was in March when it said 1,351 Russian soldiers had died since the invasion began.'' Ukrainian President Volodymyr Zelensky has said his main goal is to drive all Russian troops out, to "de-occupy our whole territory." Mr. Zelensky has appealed for more funding and equipment to retain the areas retaken from Russia. Western shipments of weapons are being used frequently by Ukrainian forces.