The NBA GOAT Debate
The GOAT debate is a controversy that has been going on for years. There are three people in this debate or as many people call it, the conversation. This debate is a really big deal to basketball fans. A GOAT in sports terms means the best player in all of that sport. In this case, these three players all play in the NBA (National Basketball Association). This is a debate about basketball players. This topic can get serious starting huge arguments and controversies that start fights or break friendships. The three players in the debate are Michale Jordan, Kobe Bryant, and Lebron James. Although people may have not heard of it or heard the facts from all sides, that's what makes it a debate or an argument.
Michael Jordan was the first person who played out of all three of these players. Michael Jordan was born on February 17th, 1963. Out of the University of North Carolina at Chapel Hill from 1981-1984. Michael Jordan was drafted in 1984 when he was the third pick of the draft in the first round – drafted by the Chicago Bulls. In 1988 he won his first MVP (Most Valuable Player) and won defensive player of the year as well. He also won rookie of the year in 1984.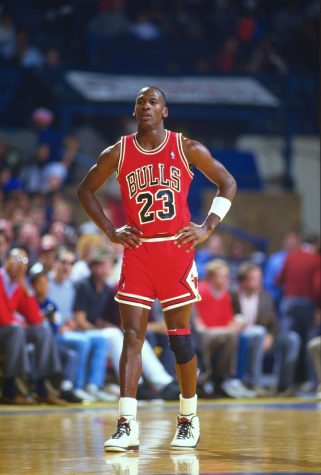 Then after the first 6 seasons of his career, he finally won his first championship in 1991 and that was one of many to come. In 1991 he won MVP and led the league in plate efficiency. A year before he scored his highest-scoring game in 1990 with 69 points in that game. In 1992 and 1993 he achieved more championships and won MVP in 1992. Fans were devastated when he decided to retire in 1993 because he said he lost interest in basketball. Sadly, his dad was murdered which he said made him decide to come back to basketball, and because of a baseball strike. Then in 1995, he stated, "I'm back". He then won the championship in 1996 a year after he came out of retirement and also won MVP that year as well. Then in 1997, he won the championship again. In 1998 he won the championship again and the MVP again that year. In 1999 he decided to retire again due to tension between the general manager and the coach. Michale Jordan's coach ended up leaving Chicago as a result which led him to retirement. But in 2001 he wanted to come back to play basketball for a different team. The Washington Wizards. He played with them for two years before retiring for the third time in 2003. He was a 14-time NBA All-Star. His overall career stats were 32,292 points, 6,672 rebounds, 5,663 assists, and 2,514 steals on the court over his career. Over his 15-season career, He was named Finals MVP 6 times and was nicknamed the GOAT and Air Jordan. He definitely had a great career. Kyle Pinto said, "Michael Jordan is the GOAT because he is better than Lebron."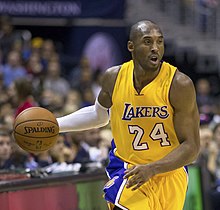 Jordan played with a young star named Kobe Bryant but Jordan retired. That led the way for Kobe to get his great basketball career. Kobe Bryant was born August 23rd, 1978, and drafted in 1996 1st round pick 13th. He went to Lower Merion High School. He didn't go to college unlike Jordan because he wanted to play with his idol. In 2000, Kobe Bryant, a young star, just won his first championship with more to come. Then in 2001, he won another championship with one of his favorite teammates, Shaquille O'Neal. Kobe was a young star on the Lakers who was becoming one of the best players in the NBA at the time. In 2002, he won the championship again. He didn't win the championship for 7 years straight but in 2006, Kobe had the highest-scoring game of his career. Scoring 81 points in total. Kobe is also an 18-time NBA All-Star. Then in 2009 and 2010 he won the championship and Finals MVP too. Kobe won MVP in 2008. At the end of his 20-season NBA career, he retired on April 13th, 2016. He had 33,643 points, 7,047 rebounds, 6,306 assists, and 1,944 steals. His nickname is the Mamba. Sadly, he died on January 26th, 2020, in a bad helicopter crash along with his daughter. He will always be remembered as a great basketball player.
Finally, at the end of Kobe Bryant's career, a young star appeared, Lebron James. Lebron James was born on December 30th, 1984. Drafted in 2003, round 1, and was the number one pick of the draft by the Cleveland Cavaliers. He didn't go to college like Kobe, he came right out of high school. In 2003 he won the rookie of the year award. In 2009he won the MVP. Then in 2010, he won it again. After seven years with the Cavaliers, he decided to try to get a championship elsewhere. He didn't want to wait any longer so he decided to be traded to the Miami Heat. There he won the Championship in 2012 and won the MVP. Then in 2013, he did the same thing by winning the championship and winning MVP. He played with the Heat until 2014 when he wanted to get traded again back to the Cavs this time. In 2016 history was made, Cavalier fans were the happiest they have ever been because Lebron won them the championship for the first time. Two years later in 2018, he was seeking more rings so he got traded to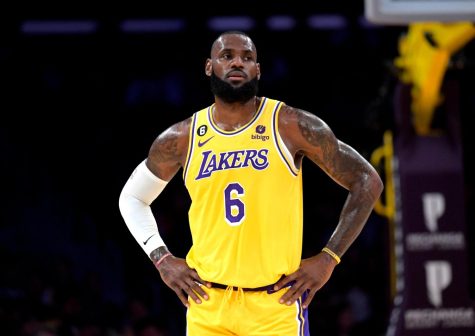 the Lakers. Two years after he was traded to the Lakers during the covid season, he won the championship in 2020. He is currently with the Lakers to this day. He was defensive player of the year runner-up twice. He is a 14-time All-Star and He has been to the NBA Finals 10 times. His career stats so far are 38,450 points, which is an all-time NBA record, 10,606 rebounds, 10,371 assists, and 2,179 steals. His nickname is King James or the king. He is a great basketball player in NBA history. Logan Hicks, a 7th grader, "thinks Lebron is the GOAT because his longevity is amazing because he is 38 years old and is still putting up numbers like he is in his prime."
Overall, these three players are all arguably the GOAT. Lebron has the most stats, Jordan has the most rings, and Kobe has the heart to go all the way. You can look at stats, rings, and who is the best all-around player, but there is not a good enough argument to prove who is the GOAT here. There are many other great basketball players, but these are the top three players people consider the GOAT. No one knows if these players are better than one another mainly because they all didn't play at the same time at their best. Fans make the GOAT choice but these players all deserve the title the GOAT. But, there can only be one GOAT.