Why Is Olivia Dunne So Successful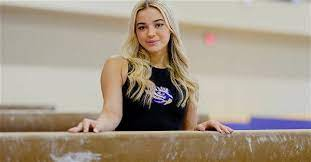 The 20-year-old rising star became a millionaire at the age of 18, thanks to her social media fame. Olivia has been a gymnast since she was a child and is now one of the top earners in college sports. Olivia is a gymnast at LSU, and received a full scholarship. 
Before Olivia's college career, she was on the Women's USA National Team. While a part of the team she was able to compete against gymnastics superstar Simon Biles. Oliva Dunne was doing well in her gymnastics career but got injured a few weeks before the olympics, making it impossible for her to compete.
Olivia Paige "Livvy" Dunne is a member of the LSU Tigers women's gymnastics team, and is the highest-valued women's college athlete as of 2022. Olivia is a social media influencer on tik-tok and instagram. She currently has 7.1m followers on tik-tok and 3.5m followers on instagram.
While Olivia isn't paid by LSU to do gymnastics, she gets sponsorships from various companies to wear leos and promote equipment. It is estimated that Olivia receives $2 million a year just off of sponsors.Maddie pawlack said "  i love watching her on tv and tiktok."Olivia is also paid $1 million a year by WME, for her social media presence and her incredible gymnastics abilities.