Messi Wins World Cup For Argentina
Lionel Messi has been playing football from a young age. In 1994, he started playing for Newell's Old Boys. During the time he played for his club team, Newell's Old Boys, he played 176 games and scored 234 goals. Whenever he scores a goal, he points to the sky to dedicate his grandfather.
At the age of 10, Messi was diagnosed with growth hormone deficiency, which affected his physical development. FC Barcelona helped pay for his treatment and he started to train with Barcelona's Under-13s. Messi started to make his name for himself, winning four Champion Leagues, seven Ballons d'Or, and 22 awards, but the only thing he was lacking was MVP for the 2022 World Cup. In the summer of 2021, he had to leave Barca because they couldn't pay his wages leaving as a free agent.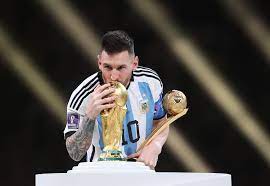 On December 18, 2022, The Qatar World Cup final between France and Argentina was played. Messi and Ángel Di Maria scored, but Kylian Mbappe scored twice for France. In overtime, Messi scored again, but Mbappe was able to make a hat trick (score 3 goals in one game) – tying the game again. They went to penalty kicks after overtime, and Argentina made four shots. Unfortunately for France though, they only made two shots. Argentina finally won!
Messi has been working hard to win the world cup for 16 years. The 2022 World Cup was the last chance for Messi to win the World Cup because he was supposed to retire after. Messi has lost almost all of his world cups since 2006. In 2014, he was close to winning the World Cup, but Germany beat them by one goal. In 2006, Argentina was in the quarter-finals and lost to Germany again by penalties. In 2010, Argentina lost to Germany a third time by four points. Lastly, in 2018, they lost to France by one point.
After Messi won, his fans were so happy. 7th grader Finn Emrich said, "I was very excited when I was watching at home, I saw them score and like when they won I was like YEAH." Another fan, 7th grader Gene Sanchez, said, "I was happy Messi won." One of France's fans, 7th grader Eli Morah, was sad about Mbappe losing since he was hoping for them to win back-to-back.
Lionel Messi finally finished his trophy collection. Messi will not retire from international football, he said, after he won the World Cup. His new club, PSG, has Kyilan Mbappe and Neymar da Silva Santos Junior, two amazing players. The PSG are first for the League 1 and second place in the UEFA Champion League for group H this season.