Teacher Spotlight – Mr. Cooper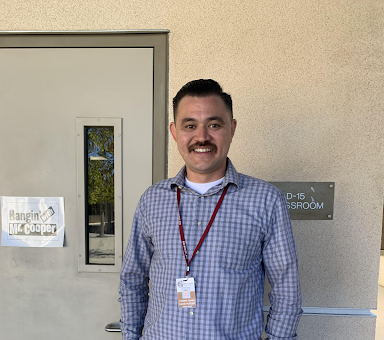 Teacher Spotlight – Mr. Cooper
Mr. Cooper is a new 7th-grade math teacher at Rio Norte. He was born on October 10th, 1986. He is loved by his students for his humor and his fun lessons!

Although he's a teacher, he never really wanted to become one in the first place. For a while, he worked in property management, which is the control and maintenance of the real estate industry. He decided to become a teacher shortly after his son was born. In his own words, Mr. Cooper has said, "It was something that I was always interested in, but not anything that I ever thought I would actually do for a living." He graduated from Chapman University here in California. 
He started teaching because he loves being able to get along with his students. Prior to teaching at Rio Norte, Mr. Cooper taught at Golden Valley High School. He has taught for the last four years at La Mesa Junior High as well. Mr. Cooper's favorite grade to teach is 7th grade, which is the grade that he teaches currently. He has been teaching for 6 years in total. Mr. Cooper's mom, Crystal Cooper also works in the school office. 
One cool fact about Mr. Cooper is that he is left-handed! He is currently 36 years old and loves teaching math. He also has been teaching since 2016! Mr. Cooper has a son named William who is 7 years old, and a daughter named Blake, who is 5. He enjoys spending time with his family, traveling, and experimenting with live music. His favorite thing to do is to go to the beach with his family.
Mr. Cooper is very loved by everyone on campus! Elesa Tatoian, a 7th grader here at Rio Norte, said, "He seems like a nice and funny person." An anonymous 7th grader has said, "In my opinion, he's a pretty good teacher." Mr. Cooper has a reputation of being a very kind person on campus. Many people have said that he is a great math teacher as well!
If you want to contact him, you can email him at  Kevin Cooper, or you can go to room D-15!