Sportsmanship Shown in Little League Baseball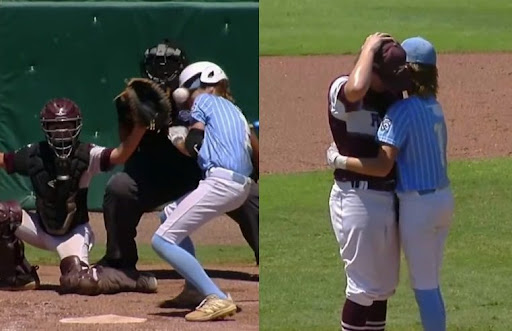 Recently, an inspiring display of sportsmanship happened in the Little League World Series. It occurred in the Southwest Region, involving Isaiah Jarvis and Kaiden Shelton. It was a great moment and lesson for not just children, but people all around the world to learn from.
A few days ago, in the Little League World Series, a baseball player named Isaiah Jarvis got hit by a pitch very badly. Luckily, he quickly recovered after the incident. After he got up, the crowd applauded him as he got up and walked over to the first base. Once he could make it to first base, the pitcher, Kaiden Shelton ran over and gave him a big hug that left everyone in awe after Jarvis saw him crying. Even though he was in pain, he still wanted to come over and give him a hug for caring. It was a great way to show sportsmanship and make Shelton feel comfortable with Jarvis after the incident.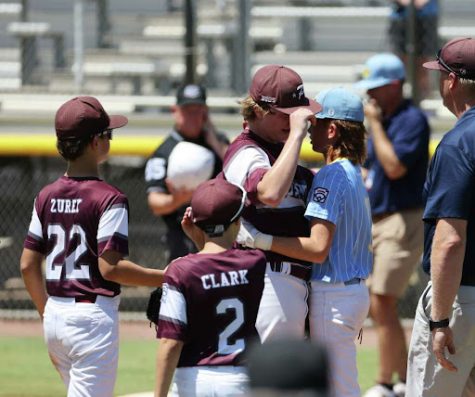 The pitcher, Kaiden Shelton, felt bad and said ''I wanted to go over there and spread God's love and make sure that he's ok, make sure that he knows that I'm ok and that I'll be ok." Jarvis, after seeing the video, felt so much grace and joy. In an interview with CNN10, Jarvis said, "His heart is different for people. He's just a good kid." Shelton stated that "Jarvis is now fine a few days after the incident with Shelton. I think the lesson is that you should care for other people. Like if they're down, you should just care for them, try to build them up." 
Unfortunately, Jarvis' team lost the game. Jarvis said he will root for Shelton and his teammates along the way.  Jarvis said, "Yeah, they're from the same region as us, and we've been really good friends, our teams…so we're going to be rooting for them all the way". He went to all their games and as of now, they are still in the Little League World Series while Jarvis is in the stands cheering for him and the rest of his team. Also, the rest of Jarvis' team is rooting for the person who helped their teammate after hitting him with a pitch.
This was a great way for Shelton to spread awareness around the community. It's a good lesson too because, despite competing against each other, Shelton was caring and nice to Jarvis who was in great pain after he got hit. It will definitely be one of the most memorable moments in The Little League World Series for years to come.