Summer School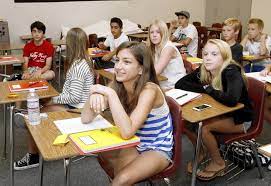 Summer school is a great opportunity to either make up credit from failing classes or to be ahead of your class. Summer school will take place in July and will not be on July 4th.
Mr. Sheridan shared some information regarding summer school. He stated that "Students can register for Summer School by talking to their counselors, or by visiting the Hart District website. The main class offerings for Jr. High are Math 7 and English 7 and are designed for credit recovery.  It's possible if enough students sign up, and there are teachers available, that a few Jr. High elective classes will be offered as well.  Previous years have had Creative Writing, Technology Fundamentals, Exploratory Art, Marine Sciences, Spanish, Nutrition and Exercise, and Science Project as some examples of elective offerings."
No matter how bad a student's grade is they will not have to attend summer school. Counselor Ms. Burns (A-G) says, "The school recommends a student should go to summer school if they're failing multiple classes, so they can make up the credit." Students who don't have to make up the credit can go to summer school too, as enrichment classes are also offered, this can be a great opportunity for those that like to be ahead.
Options of which schools you can attend during summer school are…
7th grade: Placerita or Sierra Vista
8th grade: Saugus, Golden Valley, or Hart
Classes open to current 8th graders/incoming 9th graders in…..
Saugus High School:
Intro to Engineering Design A/B(10 credits)
Exploring Careers in business
Exploring Travel, Tourism, and Hospitality Careers
Exploring Design, Visual and Art Media
Exploring Education Careers
Golden Valley High School, Hart High School, and Saugus High School
Junior High School English 8
Basic Junior High School English 8
Classes that are open to current 7th graders/incoming 8th graders that want to make up credit (Both schools are offering these classes) are …..
Enrichment classes for Sierra Vista current 7th graders/incoming 8th graders…..
Enrichment classes incoming 8th/ current 7th Placerita…..
Websites you can go to for more information:
https://www.hartdistrict.org/apps/pages/summer-school  
https://docs.google.com/document/d/1-gwwu1eOay6_ox8-Bc_LZ_PD2Bd9NJmMXP1cHk7BgEk/edit 
https://docs.google.com/document/d/1FGhh2MDmQvPmBOH6uKc662-8cfE3xTslKUy5wjDQgGw/edit 
https://4.files.edl.io/0f45/03/14/22/231507-f4f20ca5-2845-4de7-ae82-a2069241663f.pdf