California Wildfire Started by Gender Reveal Party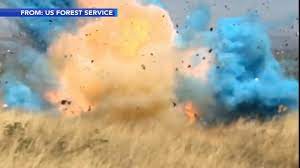 According to Cal Fire there have been 8,136 wildfires in the state of California and an estimated 3,754,729 acres of land has been burned this year. Also there have been 29 deaths, and 8,169 structures destroyed or damaged
In Woodland Hills, Los Angeles the temperature on Sunday, September 6, 2020 reached 121 degrees, an all-time high for LA county. This year California has seen three of the biggest fires in state history. One of the most known wildfires right now is a fire started by a gender reveal party.
On Saturday, September 5, 2020 at 12:51 PM a fire started at meadow in the El Dorado Ranch Park, Yucaipa by a gender reveal party. The couple that was having the party used a smoke bomb to set off clouds of pink or blue smoke into the dry air. When the pyrotechnic device ignited it made the nearby four-feet tall, dry grass catch on fire. The family quickly tried to dampen the flames but failed to do so and soon called the authorities.
So far the El Dorado fire has been active for 26 days, burned 22,744 acres, and put two counties under evacuation. There have been 13 injuries and one casualty along with the damage/destruction of 24 buildings. 4 helicopters, 24 fire engines, 4 dozers and 1 water tender are currently deployed for the fire with 590 fire-fighters and 15 crews. The fire has been 93% contained and some towns have been allowing residents back to their homes.
Authorities are investigating the situation and the family is cooperating. According to CNN there have been at least three laws that have been violated, including "igniting the land" and arson. There is still no decision of how the family is going to be charged.
You might be thinking that this is the only time that a gender reveal party has gone wrong. But, you're wrong. In 2017 a gender reveal party in Arizona started a fire that burned nearly 47,000 acres and caused $8 million in damage. Last year, a gender reveal in Florida set-off a bush fire. Gender reveals got so bad that the woman that started them, Jenna Myers Karvunidis, wants them to stop. What started out as a fun way to celebrate, turned into " a bit of a nightmare" as Karvunidis puts it.
According to the Smithsonian Magazine a study showed that 84% of wildfires are caused by humans. As of September 27, 2020 two new fires called the Zogg and Glass fires have started causing a lot of damage. Combined the fires burned over 100,000 acres already. This isn't the end yet though, Multiple new fires have started popping up after the 27th. Though we are only talking about a select few fires, there are more to come. And this week there are major fire warnings, unhealthy air quality, gusty winds, and heat warnings.
Stay safe and stay home Riverhawks!