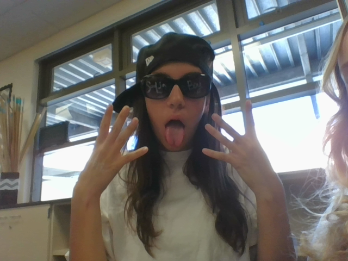 Jenna Smith is an 8th grader here at Rio. She was born on October 4, 2009, and is only 14 years old and has already accomplished so much. She is a black belt and participates in taekwondo at Shin's Family Martial Arts. She is also part of the National Junior Honor Society (NJHS) here in Rio. This club is filled with people who have a 3.7 GPA or higher. They have to do 10 hours of community service (which has to be done by April 12) to receive awards at the end of the year. Jenna is also in the Choir elective that is run by the Music Director , Mr. G. She participates in all of their concerts and has even earned the opportunity to perform some solos. 
Jenna has two dogs named Evan and Ava. Some of Jenna's passions are volleyball and cheerleading. She has participated in both and is hoping to make one of the teams at Valencia High School next year. In her free time, she loves to go to Six Flags with her friends and play with her dogs. She grew up in Santa Clarita her whole life. She used to live in Bridgeport but then moved to Castaic. Even though she moved to Castaic she attended Bridgeport Elementary from kindergarten up to 6th grade. Her favorite subject is currently English. This year she has Ms. N whose class she is enjoying. 
Some fun facts about Jenna are that she was Jason from "Friday the 13th" for Halloween this year. She also has an older sibling, Sammy who is 18 years old. Her favorite color is pink. Her dream college is Penn State. Also, her favorite holiday is Christmas. She loves going on trips to Montana during the Winter to visit her aunt. Her zodiac sign is a libra. She loves animals, especially horses. 
Jenna Smith is a wonderful caring person. She is known for her bright and vibrant personality. 8th grader here at Rio, Gianna Torres says "Jenna is a very energetic and happy person to be around. She will always put a smile on your face. Her sense of humor is the best thing about her. She will always make you happy no matter how you feel." She is a loving friend and cares for everyone.