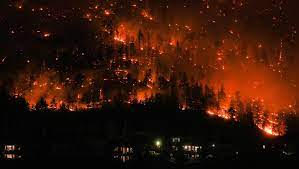 People in Hawaii are coming together to fight the wildfires that are spreading in Maui. So far they have raised 1 million dollars that is being used in many ways to fight the fires. The American Red Cross is providing those who have been going through and experiencing these wildfires with food, shelters, etc.
And on the other hand, firefighters are using helicopters to fight the fires and hoses. The reason for the helicopters is so that they can drop water on the fires while working with the ground personnel. The fires started on August 8 and are still going, but on the bright side, the fires are progressively dying out.
On August 8, power lines fell and fires started. Those fires started to spread and destroyed historical sites, buildings, homes, and killed about 115 people. Lahaina, was a historical site that was destroyed on the very day that the fire started. The fire tore through the village leaving 115 people dead, and according to Kylie Adolpho (A local teacher), about 100 missing.
People who experienced the fire evacuated the area and had to walk miles just to get to safety lacking both food and water. But those aren't the most important things that people in Hawaii are facing, their biggest problem is toxic air. The fires burned down industrial items, buildings, and cars that are releasing toxic chemicals into the air, and according to the state's Department of Health,"Toxic contaminants present in debris and ash" remain a top hazard concern in Lahaina. A Rio Norte student, stated, "I had family in Maui during the fires, and luckily got back home unharmed." This fire is really dangerous and the citizens stuck there still need help.