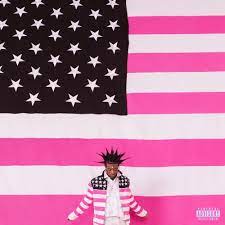 Released on June 30th 2023, Pink Tape is the third studio album recorded by Lil Uzi Vert, it features many artists and bands including Nicki Minaj, Travis Scott, Don Toliver, Bring me the Horizon, Serj Tankian, Babymetal and many more. Caused by the inclusion of many metal artists, this album introduces the metal album to many millions of people who enjoy Lil Uzi Vert's music. Songs like "CS" which is basically Chop Suey sung by Lil Uzi Vert can be reintroduced into mainstream music and enjoyed by many people who enjoy rap. Pink Tape was also rated handsomely, having a rating of 9/10 by Clash but also a harsh 3.1/10 rating by HipHopDx.
 Lil Uzi Vert was born in July 31st, 1995  and raised in Northern Philadelphia as Symere Woods, as a teen he grew up listening to lots of rap and absurd amounts of rock, these include Mia Khalifa, My Chemical Romance, Paramore and many more. Later in life he dropped out of school and worked at a Bottom Dollar store. He soon quit after 4 days and was promptly kicked out of his house by his mother. He eventually began taking his rap career seriously in 2010 and had his first EP released in 2014.
First teased in December of 2020, in December of 2021 Lil Uzi appeared on a live stream with Kai Cenat confirming that the album would be completed the following night. The art cover on Pink Tape is Lil Uzi standing in front of a pink American flag of which he posted ideas for alternate art on instagram. The album also features 26 songs with a running time of 87:03, it includes a series of artists and bands one of these bands is Babymetal who recorded "The End" with Lil Uzi Vert which consists of focused repetitions and a short chorus but with melodic instruments and fast sound effects. This album consists of heavy autotune, reverb and an aggressive vocal style, he also utilized fast and heavy instruments in many songs like "CS" which allows his songs to come out feeling assertive  and gives a very new feel to this kind of rap. 
 An 8th grade Rio Norte student, Leily N. was approached with the question regarding her overall opinion about the album to which she replied, "I think the album was very average, but personally I didn't really like it." When asked what her favorite track was she responded, "My favorite track on the album was Endless Fashion which featured Nicki Minaj because I really like Nicki Minaj." When finally asked with for her overall rating of the album and if she would recommend it to other people she confidently replied, "I rate it a rough 6.5 out of 10, and personally I wouldn't recommend this album to other people because it's not my kind of music but I feel like it can really appease to people interested in rap."
Overall, this album is marvelously crafted with grappling rap songs and controlling metal songs. It really does a great job at captivating the listener. With the album having a whopping 154,000 streams it really did a great job at capturing the mainstream media and dominating for a short while.