Millions of Socal Residents Expected To Travel This Weekend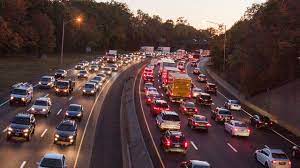 This year according to AAA it's estimated to be the "third busiest Memorial Day weekend" in over two decades. Additionally, not only nationwide but even Southern California AAA estimates that 3.3 million residents will travel 50 miles or more away from home this weekend.
Officials suggest leaving Friday, May 26 in the morning or after 6pm, and they predict Firday to be the busiest travel day on roads nationwide, so be prepared to encounter heavy traffic and delays. But for coming back the ideal time is between noon and 3pm. On the bright side both gas prices and airline fares are down from the recent peaks, but regardless it'll still be significantly more expensive than prior to COVID-19. 
For those who have nothing planned it's still not too late to plan a last minute trip. In Socal some destinations spots not too far away that you might've not been too yet include the Santa Monica Pier/Muscle Beach, Catalina Island, Knott's Berry Farm, Palm Springs, Tent Camping at any beach, Legoland, Santa Barbara, or visit Kern River Rafting, Camping, and/or Fishing