King Charles' Coronation
On May 6, 2023, King Charles iii and Queen Camila were crowned as the new monarchs of the Commonwealth Realm. The Commonwealth Realm includes the UK (United Kingdom), Tuvalu, the Solomon Islands, Saint Vincent, Saint Lucia, Saint Kitts, Antigua and Barbuda, New Guinea, New Zealand, Jamaica, Grenada, Canada, Belize, Barbados, the Bahamas, and Australia. The crowning took place during the Coronation, which was held inside the Westminster Abbey. After the Coronation, there was a huge parade at Buckingham Palace as well as a Coronation Concert which featured artists like Katy Perry and Olly Murs who performed in honor of the Royals.
A Coronation is an event held to crown the new King or Queen of a country. Breaking the tradition of riding in the Gold Stagecoach, King Charles and Queen Camila arrived at Buckingham Palace in a Diamond Jubilee Stagecoach. They then proceeded to Westminster Abbey where more than 2,200 people from 203 countries were waiting for the new king and queen. During the ceremony, King Charles was presented to "the people" – a tradition where the new king or queen faces all four sides of the abbey and is proclaimed as the new "undoubted King". The Archbishop of Canterbury Justin Welby made the first declaration of loyalty as the congregation shouted "God Save the King!" After the crowning, where King Charles was given the St. Edward's Crown, there would traditionally be a succession of royals who pay homage and pledge loyalty to the new monarch. Prince William, the Prince of Wales, however, was the only person to do so. Instead, the Archbishop invited everyone inside the abbey to pledge allegiance by saying, "I swear that I will pay true allegiance to Your Majesty, and to your heirs and successors according to law. So help me God."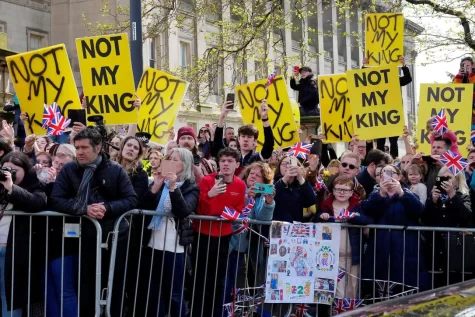 While citizens seemed to be enjoying the coronation, that's not the case. Many protesters were outside the chapel at Westminster Abbey chanting "Not My King". They were chanting this because they believe the monarchy shouldn't exist and should end. While people were protesting police were escorting anyone being even a little violent or showing more retaliation. The police took protesters' banners and placards. People were saying things like "King parasite" and "We like the police at least they apply for their jobs". The coronation concert invited many big people like Harry Styles, Spice Girls, Elton John, Adele, and Robbie Willaim. All of their teams turned down the offer due to the fear of backlash.
The King's coronation received a lot of love and hate mixed together but the outcome was beautiful. The coronation is a "ceremony marking the formal investiture of a monarch with regal power," according to the royal family's website. The ceremony was important to lots of people in the United Kingdom since it was the first coronation in 70 years.