Met Gala 2023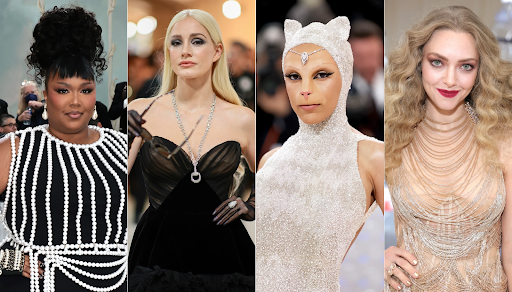 The Met Gala is a very well-known event where famous and popular celebrities are invited to dress up with a theme. It occurs every year on the first Monday of May. This year, the theme was "in honor of Karl." Karl Lagerfeld was a popular designer who died in 2019 at the age of 85. Dressing for this theme meant people could wear anything from the brands that Karl worked with, or they could mimic his personal style.
Celebrities who attend this event are expected to follow the theme, but it is not mandatory. Some celebrities who took part in the Met Gala this year were Rihanna, A$AP Rocky, Cardi B, Billie Eilish, Paris Hilton, Dua Lipa, Lizzo, Doja Cat, and Olivia Rodrigo.
A moment that shook the internet was when Kim Kardashian was seen with North West, while in her Met Gala outfit. A lot of influencers thought North West was attending the event. From 1948-2017, there would've been nothing wrong with her attending, however, in 2018 a new rule of the Met Gala was created. This rule was that only those ages 18+ could participate in this event. The allegations towards North and Kim were shut down when people found out that North had just walked out, to later stay in the car. This was the first time since 2018 that a kid had been seen on the entry carpet for the Met Gala.
This Met Gala brought back a lot of good reviews and thoughts. 7th grader Alyssa Alfaro noted, "I like how more people stayed on the theme this year than last year." Another anonymous 7th grader stated, "I really liked the theme this year and thought everyone looked great."