Faith in the Future World Tour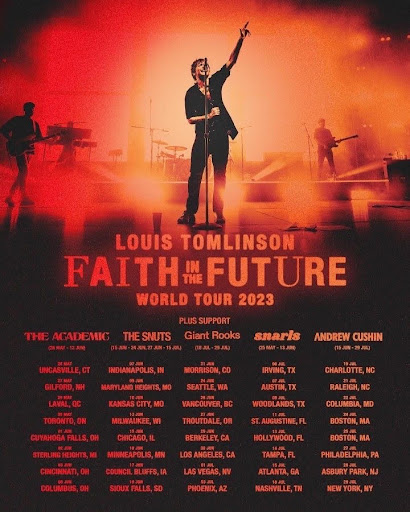 The Faith in the Future World Tour, by British singer Louis Tomlinson, is going to start on May 26 and go all the way through November 18, 2023. Louis will be touring around the world, going to different countries, and performing for his loving fans. Here is a little background about the artist himself.

Louis Tomlinson was born on December 24, 1991, in Doncaster, South Yorkshire, United Kingdom. He was the oldest of four half sisters,(Charlotte 24, Felicite, 18) and twins (Daisy, Phoebe both 20 years old ). Louis was the oldest brother, being the "dad" to his younger siblings. Louis' biological father was never around when he was growing up as a child. Louis' mother didn't have lots of money either, and he grew up in a small flat. Daisy said in an interview during All of Those Voices that Louis was always very protective of his sisters, making sure to look out for them and make sure that they were ok.

In 2010, at the age of 19, he auditioned for X-Factor. He didn't win, but he was picked to be put into a group of 4 other boys, (Harry Styles, Niall Horan, Zayn Malik, Liam Payne) which was soon to be known as One Direction. They were together for 6 years, but broke up in 2016, saying they would be taking an "eighteen-month" break.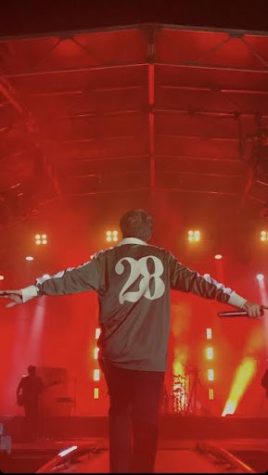 Sadly, soon after the band broke up, Louis didn't have much hope, thinking that he didn't have any talent in himself. He called his Mom for reassurance, not giving up yet. Louis Tomlinson's mom soon died of cancer on December 6, 2016. Jen Poulston and Len Poulston, the grandparents of Louis, said that Louis and his mother had a very tight close bond. Len also said that Johannah was Louis' biggest influence. "I always thought that it would devastate Lou, because they were so close. And that's why I think he's so strong."

That next Friday, Louis had to perform on X Factor, his new single called, "Just Hold On" played with Steve Aoki. After his performance, he didn't have much support or reason to continue on, but he knew he had to for his mom. After that, he then continued to release 3 more singles, "Back to You, Miss You, and Just Like You." In 2019, Louis 
Tomlinson's sister, Feclicite, died of an overdose at the age of 18. He kept going though, and in January 2020, he released his first album called Walls. It debuted at number 4 on the UK Album Charts. His tour was soon postponed due to COVID-19.

Last year, Louis Tomlinson released his second album called, Faith in the Future in August 2022. It debuted at number 2 on Billboard's Top Album. Now, almost a year later, Louis Tomlinson is going on tour. He will be visiting countries all over the world, such as places like France, the United Kingdom, Belgium, Greece, and Germany. He will be going to Los Angeles on June 30th, 2023. It will be at the Hollywood Bowl. Tickets are on sale on a website called Ticketmaster or any other trusted website to get tickets.
Louis now has his own movie called All of Those Voices, telling his story about his life and how he felt and went through all of his problems. He also has a son named Freddie Tomlinson, who is 6 years old. Louis taught his fans to never give up, and even though life becomes hard, you can achieve anything you put your mind to. On Spotify, Louis has 4,041,889 monthly streamers, his most streamed song being Back to You, with over 500 million. An 8th-grade student here at Rio Norte named Cassidy Snow says, "Louis means the world to me! His music is amazing and I even met so many people because of him and him being in One Direction." Louis means the world to so many of his fans, helping his fans during difficult times in life and inspiring them to live their dream. If you would like to listen to his music, here are a few links to his accounts.
Spotify:
https://open.spotify.com/artist/57WHJIHrjOE3iAxpihhMnp

Youtube:
https://www.youtube.com/@LouisTomlinson

Apple Music:
https://www.apple.com/us/search/louis-tomlinson?src=globalnav