Summer City Cinemas in the Park
This 2022 – 2023 Rio Norte Junior High School year is nearing an end and summer break is right around the corner! Some 8th graders will be attending the Valencia sports summer camps, some students might be going to sleep-away camps or day camps, and lots will probably be traveling the globe. However, summer can be a popular time when kids and families don't have plans due to not working or going to school. Santa Clarita City Cinemas in the Park is a great opportunity to get out of the house with your friends and family and watch your favorite movies!
June 23 is the first Friday of City Cinemas in the park this summer. Following this day, there will be 4 more movies (that show one Friday a month up to October). Each month, there will be a different movie at a different time and park. Here is the schedule for this summer's Cinemas in the Park:
Friday, June 23 — The Little Rascals (PG), 8:30 p.m. at Newhall Park, 24923 Newhall Avenue
Friday, July 28 — Puss in Boots: The Last Wish (PG), 8:15 p.m. at Bridgeport Park, 23521 Bridgeport Lane
Friday, Aug. 25 — Back to the Future (PG), 8 p.m. at Central Park 27150 Bouquet Canyon Road
Friday, Sept. 22 — Top Gun: Maverick (PG-13), 7:30 p.m. at the Canyon Country Community Center 18410 Sierra Highway
Friday, Oct. 27 — Hocus Pocus (PG), 7:30 p.m. at The Centre 20880 Centre Pointe Parkway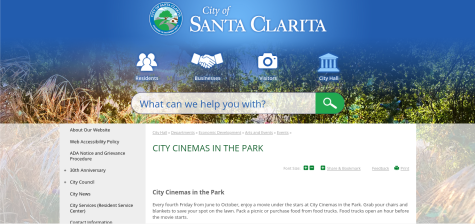 KHTS, hometownstation.com, says, "Grab your blankets and chairs and claim your spot on the grass to enjoy all-time classics and new favorites. City Cinemas in the Park is set to feature ample gathering space, allowing attendees to sit back and relax as they enjoy a picnic dinner or a meal from a food truck on-site." Food trucks will be opening at 7 p.m. 7th grader Lily Ohanyan states, "I think [the movies in the park] are a great idea and I would go to the Puss in Boots one because I really liked watching it. I would also definitely watch it again, especially with my friends."
As one can see, these movies are a fun way to get out of the house and see some great movies. There will be food trucks, plus playgrounds at the park if you get bored. So, bring your blankets and chairs and find some patches on the grass to sit back, relax, and enjoy Cinemas in the Park!