City of Santa Clarita's Annual Bike to Work Challenge Returning for 2023
When driving a gasoline-powered car to work every day, you are burning gasoline and diesel fuels, which release nitrogen dioxide, carbon monoxide, hydrocarbons, benzene, and formaldehyde into the atmosphere. All of these chemicals pollute the air everyone breathes and contribute to global warming. And the major contributor to all of this is cars, sending 1.4 billion tons of greenhouse gasses into Earth's atmosphere each year. It is on us, as humans, to stop emitting these gasses into the atmosphere with our gasoline and diesel engines.
As a starting point, the City of Santa Clarita is hosting its annual Bike to Work Challenge for the residents in Santa Clarita. This event takes place from Monday, May 15 through Friday, May 19. The city is encouraging all local workers to bike to their destinations instead of driving cars that emit greenhouse gasses into the atmosphere. The City of Santa Clarita website calls it a "No-pollute commute."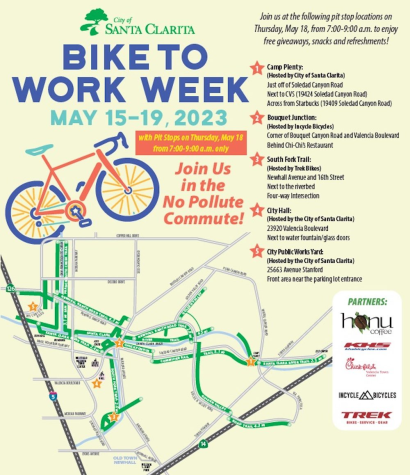 Since riding a bike can be very challenging for many people, most people don't want to participate, and just shrug it off. So, to encourage people to participate, Santa Clarita decided to make it more fun. First, the city set up "pit stops" across the city at the following locations: City Hall, Camp Plenty, Bouquet Junction, South Fork Trail, and City Public Works. These locations offer snacks and prizes to riders participating. However, the pit stops will only be open on May 18, no other days.
On May 18, you can enter a raffle at the previously named pit stop locations for many great prizes. The city also offers refreshments and snacks at these pit stops if you are hungry, thirsty, or just want a break. As another way to encourage participation, small, medium, and large businesses with the largest percentage of participation will also win a prize. As you can tell, the city really believes in the cause and wants to change the world for the better.
In Santa Clarita, this annual event is enjoyed by the public. The citizens enjoy riding with friends and just talking, or having a good time with each other. You can also make many new friends, the riders are very friendly and welcoming. Some people also just ride for the fitness aspect of riding a bike. For example, 7th grader Justin Morgan said, "My dad is a local worker and he always participates and he enjoys it with his friends." No matter the motivation, everyone that participates is taking a step to help make the earth a better place.