6th Grade Jamboree
On March 23rd, Rio Norte hosted a 6th-grade Jamboree welcoming incoming 7th graders to Rio Norte. At this event, there were parents, current students, teachers, and most importantly the incoming 7th graders all came to the Jamboree. The Jamboree allows the 6th graders to learn more about Rio's campus and different class electives they could take when they join our campus. It also allows the 6th graders to take a look at some of the classrooms that were open to see how they look.
While the Jamboree was going on, Advanced Drama, Band, and Choir performed for the 6th grader. The choir performed three different songs. The songs they performed were Niksa Banja, Doraji, and the National Anthem. Also, the Drama class performed a couple of scenes from their play, Peter and the StarCatcher, and the Band performed Wellerman.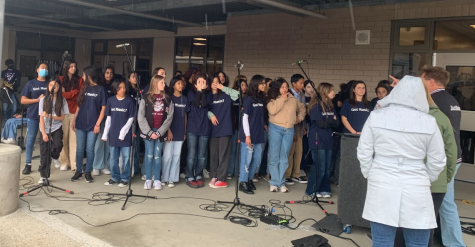 When the performances were done the 6th graders were able to walk around campus. There were 7 different stations around campus to help the 6th graders learn about different parts of Rio. Some of the stations were talking about electives, others were about different classes you can take, and another was talking about the locker rooms. Some of the electives had stations that were talking about ASB, Yearbook, RioTv, and Journalism. Different clubs had posters or flyers to hand out to the 6th graders and their parents.
Classrooms were open for the parents and 6th graders to check out were Mrs. Abdulla, and the culinary classroom. Those classrooms were open for people to check out and get an understanding of what some of the different classrooms look like and how some teachers put seating charts. In the classrooms, people's work was displayed for everyone to see some of the work they had done in class.
The 6th grade Jamboree is an amazing experience for 6th graders. Junior High may be intimidating at first but events like the Jamboree are able to show that it's not as scary or intimidating as they may think and lets upcoming 7th graders see different parts of our school.