Newsies Performance at Canyon Theatre Guild
Santa Clarita: Join us at the Canyon Theatre Guild on Main Street, in Newhall this weekend while "boys turn into men" as they embark on their journey to take down the world! This performance? Disney Newsies, directed by Jennifer Teague, is the musical story of the 1899 newsboys' strike where New York newsies fought against publisher Joseph Pulitzer for equal pay and rights as workers. Full of historical significance and bursting with energy, backflips, and belting voices, this play has audiences in standing ovation! Shows are live for one more weekend, get your tickets at http://canyontheatre.org. The remaining shows are Friday, April 28th at 8PM, Saturday, April 29th at 2PM and 8PM, and Sunday, April 30th at 2PM and 7PM.
16-year-old actor Tyler McCloy, who plays newsie Tommy Boy, shares his thoughts about this performance, the cast, and more. Since he was 7, this talented teen has been in a number of different plays at Canyon Theatre Guild, as well as at Saugus High School, where he participates in the theatre elective. McCloy states that his favorite part of this show, and acting in general, is "getting to act on stage and also being able to meet and be with all the people on there."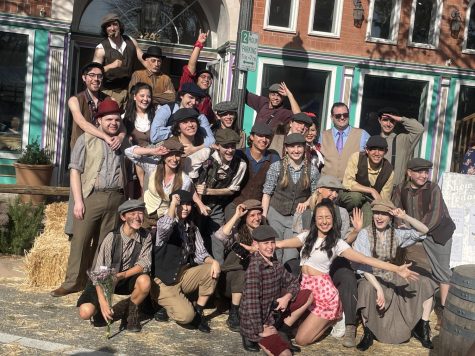 The actors cast as newsies in the play have been rehearsing since November, 5 days a week, for 3 to 5 hours every weeknight, up to 25 hours a week! Rob McCloy, 48-year-old actor and father of Tyler McCloy, is also part of this production. He plays a policeman, and also the role of Seitz, one of Mr. Pulitzer's assistants in the office. He has a very high opinion of the amount of work and effort all 36 people in the cast have put in at each rehearsal and performance. McCloy explains, "Even though it's a lot of time and effort, everybody who's in it wants to be there and wants to be a part of it so no one's being forced to do it." He goes on, saying that everybody is "just as tired as you are, has a million other things going on in their lives, but if they're all showing up it kind of forces you to step up…"
Sunday evening April 30, is supposed to be the closing show for Newsies, assuming the theatre doesn't extend the date to show more performances. Your support is heavily encouraged for the theatre and this amazingly talented cast, ranging in age from 9 years old to actors in their mid-sixties. Rob McCloy shares what he feels after a show where he knows he did well, "…an amazing feeling for a show especially because you have all the adrenaline from being on stage and then you also get the audience applause."
Every performance since opening night at the end of March has been completely or almost sold out. Lots of community members have seen this show, and some multiple times. . . they just can't get enough of Newsies! Rio Norte 8th grader Jack Perdisatt saw Newsies on Saturday, April 1st and said it was good! When asked if he would recommend this play to others, he enthusiastically stated, "Yeah, there were really good actors."
A number of cast members had their start here at Rio Norte Junior High School. Zach Andrews, a member of the cast who dances up a storm as the newsie Finch, is a proud Rio Norte alumnus. Now he is a senior at Valencia High School, and the voice of Viking Nation. Rio Norte also counts among its graduates Coleman Payne, who co-stars as Davey in this production of Newsies. Payne is also a graduate of Valencia High School and is currently studying theatre performance at College of the Canyons. Shelby Bentley is a third member of this cast who attended Rio. Bentley graduated from Valencia and is now studying theatre at College of the Canyons, along with Payne. She is cast as the character Darcy, one of the newsies, and as a bonus, she is the faithful Dance Captain who leads the numerous stunts and high-energy numbers!
Unfortunately, the magic of Newsies is soon coming to an end. You heard it here first, folks, get your tickets, get your tickets, hot off the presses! If you're up for 2 hours and 45 minutes (with an intermission and plenty of concessions) of non-stop entertainment, come to Canyon Theatre Guild with your loved ones to support the cast of Disney Newsies.