California Super Bloom
About once every decade, a breathtaking super bloom of flowers takes place in California. Millions upon millions of wildflowers bloom in the springtime for a beautiful sight, and photo opportunities. There are so many flowers that they can even be seen from space. There is a wide variety of colors of flowers. Mainly they are orange, yellow, and purple. The super bloom covers 487,000 acres of land in the state of California, so they can be seen from pretty much anywhere.
Whether you are in your backyard or at school, there is a high chance of seeing these wildflowers. The super bloom takes up 1/200 of California, and it might not seem like a lot but it really is. Very close to Rio Norte, you can see these wildflowers. Southwest of Rio Norte above the West Hills neighborhood, you can see a large patch of poppies on the hills. Also, west of Rio Norte, at the hills surrounding the Santa Clara River, you can also see a large collection of dandelions and poppies. A great viewing place to witness the wildflower's true beauty and mass, and the #1 viewing spot for these wildflowers, according to the website "TimeOut", is the Antelope Valley Canyon Poppy Reserve. Here the poppies and dandelions are protected year-round by rangers.
The super bloom occurs after multiple dry years have occurred. For example, the last super bloom was in 2019. The years following, 2020, 2021, and the beginning of 2022 were extremely dry. But the last few months of 2022 and the first few months of 2023 were extremely wet, causing another super bloom. Since there have to be multiple dry years before and then a wet year, the only states that have mass super blooms are the notoriously dry states, like California, Arizona, and Texas.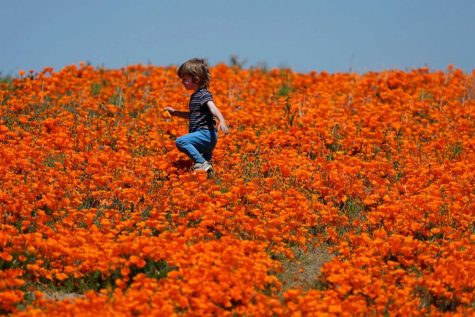 The super bloom isn't just mass amounts of poppies, there are actually many different types of wildflowers. The more general list of types are poppies, dandelions, lilies, sunflowers, and sand verbena. The poppies are a fan favorite for pictures, many people will drive hours just for a picture in these exotic flowers. These flowers can grow to 5-12 inches, and with thousands of them, they can be seen from far away. According to the 7th grader, Christian Gonzalez, "The poppies are my favorite because it is a very bright orange, it is a very exotic color in nature, so it's cool to see."
The super bloom is a very exclusive sight to see since they happen about once every decade, and there are only super blooms in California, Texas, and Arizona. Just seeing all of these exotic wildflowers combined is something you don't see every day. When driving on a California Interstate, after just a couple of miles, it is most likely you will see these poppies in Southern California. The super bloom delivers colors you don't usually see in nature. For example bright orange, light and dark purple, bright yellow, and more. It is certainly a treat to see.