Peter and the Star Catcher
Peter and the Star Catcher is a 7th and 8th grade performance that Mr. Owston (best known as Mr. O), the drama teacher, is directing for his drama class. This play is based on the original story of Peter Pan, and is also based on what's called "Theater of the Poor". The meaning of Theater of the Poor is a theater that values the body of the actor and its relation with the spectator. It also does away with costumes, decor and music. The students in the drama class have been rehearsing this play since January and practice almost every class. The 28 students playing a role are putting it on right here in the Rio Norte MPR on April 27th and April 28, at 7 P.M. and the run-time is looking to be about 2 hours long – with an intermission.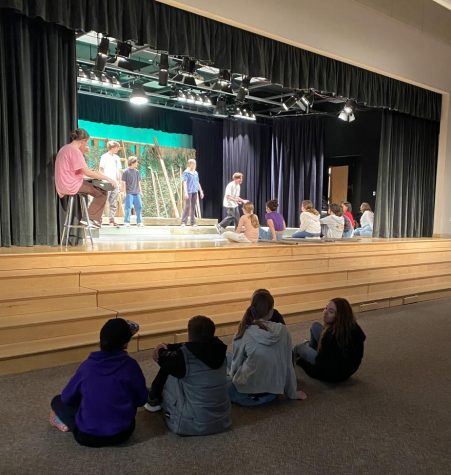 Mr. O stated that he chose this particular performance because, "…it is a wonderful adventure that these kids get to go on using a script and a backstory of Peter Pan." Students all have different roles in the play, and they had auditions in the beginning of the year. Afterwards, people have "call-backs" where they eventually get cast their roles from there. Not only are there acting roles, but this drama production also has a student assistant director, student lighting director, student prop designer and a group of students doing the costume design. These roles are just as important for the sake of the play going smoothly, and they couldn't do it without them.
The students in this drama class are excited to perform this play for their junior high school in a few weeks. 7th grader McKenzie says, "I am really looking forward to this play, we have been practicing a lot and I'm ready." Also, 7th grader Sophie explains "The cast members working on this play have been working hard and we can't wait to perform it." These students who are helping with props, costumes, and the roles in this play have all been working non-stop (every class, actually) and deserve a great audience for Peter and the Star Catcher!
On the flyers you've probably seen around school and in classrooms, there is all the information you need and a QR code that leads to a website. You can buy tickets, donate to the theater department, order Peter and the Star Catcher mugs, sweatshirts, t-shirts, etc. on the website. Come and support these hard-working students and staff by watching Peter and the Star Catcher in a couple weeks!