What to Expect on CAASPP Testing
CAASPP, also known as the California Assessment of Students Performance and Progress is a statewide testing program starting on April 25 and ending on May 5th. They encompass assessments and student participation requirements. Students worry about taking this test or why they are doing this test.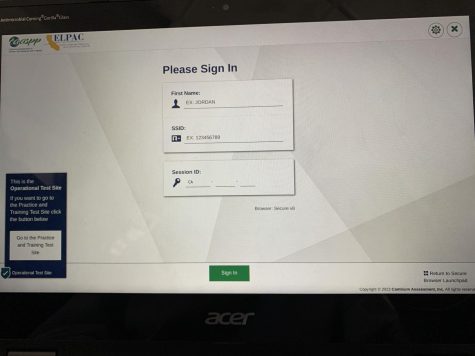 First off, kids should expect to be tested on math, english, and science if they are in eighth grade (in 7th grade they are only tested on math and english). Every student will participate except for students doingalternate assessments and English learners starting in their first 12 months. Students also should expect two sections – computer adaptive and performance tasks. The performance task measures students' ability to bring knowledge and skill across standards. The computer adaptive is like that but includes items like graphing and tables.
The test will show what students are academically good at. 8th grade history and 7th-8th grade "peace" elective teacher Mrs. Racina said, "It helps parents and teachers know where their student is academically. Teachers and administrators can review testing data to improve teaching practices and professional development opportunities." California gives us this test to assist teachers, administrators, students, and parents by promoting teaching and learning through many items or assessments.
Mrs. Racina also said, "California wants to know how the students are compared to each other in different areas of the state and in different school districts. The state also wants to see strengths and challenges in the different subject areas that are being tested. That way they can help better direct what and how the teachers are teaching different subjects." To prepare for the test, you should get a good night's sleep and a well-balanced breakfast. When you are doing the test, you should take your time reading directions and answering questions. Lastly, review your answers to avoid mistakes during the test.