Outer Banks Season 3 (SPOILER WARNING)
Outer Banks, also known as OBX, is a popular Netflix series that follows the adventures of a group of friends called 'The Pogues' living in the Outer banks of North Carolina. The show gained immense popularity due to its captivating storyline and its characters. Season 3 was recently released on February 23, 2023.
In season one, the group of Pogues, which consists of John B, JJ, Pope, and Kie look into the disappearance of John B's father while searching for the Royal Merchant, a famous shipwreck that contains treasure worth over $400 million with the unwanted help of "Kook Princess" Sarah Cameron. In season two, Sarah and John B are stuck trying to evade the police in the Bahamas while Kie, JJ, and Pope are trying to figure out more in Outer Banks. They reunite in Charleston before they are once again on the run from Sarah's father Ward and her brother Rafe. In order to evade them, the Pogues jump off a cargo ship with Cleo, a crew member on the ship, and are now stuck on an island. This is where season three picks up.
Season 3 picks up with the Pogues as they're washed ashore on a desert island that, for a brief moment, seems like an idyllic home, after they've found and lost a golden treasure and fled their hometown. Called Poguelandia, the Pogues spend their days fishing, swimming, and reveling in the carefree lifestyle of their temporary dwelling. But things quickly go south for John B, JJ, Pope, Kie, and Cleo when they find themselves once again caught up in a race for the treasure, quite literally running for their lives. They're broke and far from home, they can't trust anyone, Ward and Rafe are hungry for revenge, and there's a ruthless Caribbean Don who will stop at nothing to find the bounty. Was the treasure ever within their reach? Or was it all a trap to stop them once and for all? Either way, it's the Pogues against the world – and the only way out is together.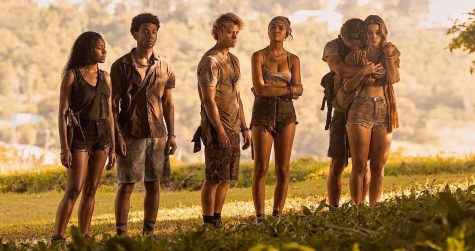 The new Outer Banks season was important to Rio Norte students because many Rio students enjoy watching adventurous shows that provide twists and turns. 7th-grader Camila Westrup-Gonzolez said that she enjoyed the show because it kept her on the edge of her seat the entire time, trying to figure out what was going to happen next. The show is action, romance, thrill, adventure, and mystery all in one. Outer Banks is a show that is loved by not just students here at Rio but by people of all ages. Outer Banks keeps those watching interested and hoping for another season of the show!