Regal Edwards Valencia Movie Theater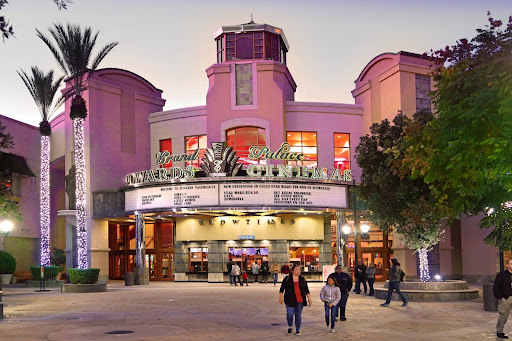 Here in Valencia, our movie theater is called Regal Edwards Valencia, located on McBean Parkway and Magic Mountain Parkway. It is also located near our mall called Westfield Town Center. In this shopping area, you can find Gold's Gym, Chipotle, Cheesecake Factory, and Salt Creek Grille. Here are some new movies coming out this March and in upcoming months.

Scream VI
This movie was released on March 9, 2023, and its running time going for 123 minutes. The movie is rated R and will be shown in theaters until March 16. It's about four survivors who leave Woodsboro behind and start a fresh chapter. In Scream VI, Melissa Barrera ("Sam Carpenter"), Jasmin Savoy Brown ("Mindy Meeks-Martin"), Mason Gooding ("Chad Meeks-Martin"), Jenna Ortega ("Tara Carpenter"), Hayden Panettiere ("Kirby Reed"), and Courtney Cox ("Gale Weathers") return to their roles in the franchise alongside Jack Champion, Henry Czerny, Liana Liberato, Dermot Mulroney, Devyn Nekoda, Tony Revolori, Josh Segarra and Samara Weaving.

Shazam! Fury of the Gods Movie
This movie will be released on March 17, 2023. It will run for about 130 minutes. It's rated PG-13 and you'll be able to watch it through March 30. This movie continues the storyline of teenager Billy Batson who, upon reciting the magic word "SHAZAM!," is transformed into his adult Superhero alter ego, Shazam. Some actors include Zachary Levi, Asher Angel, Mark Strong, Grace Fulton, Jack Dylan Grazer, and Djimon Hounsou

Louis Tomilson: All of Those Voices
This movie is going to be released on March 22, and will only show on this day and March 25. Its runtime will be 104 minutes long and is still not rated yet. This is a documentary that takes a refreshingly raw and real look at Louis Tomlinson's musical journey., All Of Those Voices offers a unique perspective on what it's like to be a musician in today's fast-paced world.. The film explores his journey from a member of One Direction to a solo artist, capturing the challenges and triumphs that defined his path. Tickets are already on sale for this movie, so hurry before it sells out.
Super Mario Bros: The Movie
Super Mario Bros will release on April 5, but you can preorder tickets now. It's rated PG and its runtime is 92 minutes long. The film stars Chris Pratt as Mario, Anya Taylor-Joy as Princess Peach, Charlie Day as Luigi, Jack Black as Bowser, Keegan-Michael Key as Toad, and Seth Rogen as Donkey Kong. This movie will take you into Mario Land, and give you a new perspective on how Mario and his friends live their life. You'll be able to follow his adventure throughout the movie and watch him encounter one of his worst enemies, Bowser.
A pole asked students around Rio Norte about our movie theater. 82.1% said they have been to our movie theater, and about 50% of that will be going to our movie within 3 months. Also asked them if anything should be improved, and they said that the food should be cheaper or free. They also said our movie theater was nice and had lots of good movies. Someone else said the seats are too close, and they should be a little farther apart.
The Edward Cinema movie theater is one of the only movie theaters here in Valencia. It has been around for at least 13 years and is still very popular to this day.  If you would like to go to a movie or see what else our movie theater is showing this year, follow the link below to see:
https://www.regmovies.com/theatres/regal-edwards-valencia-imax/1038#/buy-tickets-by-cinema?in-cinema=1038&at=2023-03-13&view-mode=list