Where to Volunteer in 7th and 8th Grade
Students in The National Junior Honor Society or NJHS are required to complete 10 hours of community service by April 11th. This also has to be for a non-profit organization in order to stay as an NJHS member. There are also students that want to get a head start in adding volunteer hours to their college application. Whether you're an NJHS member or someone who wants to volunteer, it might be difficult to find a place to volunteer as a 7th or 8th grader. This may be due to age restrictions or because it doesn't qualify as a non-profit organization.
7th grader and NJHS student, Pax Kianijam states that they volunteered for their NJHS hours, "I volunteered at the Placerita National Wildlife Center because I wanted to remove invasive plants from the hills to prevent wildfires in the area. They also occasionally round up hours." Pax also says, "I recommend volunteering at Sunny Day Acres because my dad had walked my dog there, and he said if you're not into running around and exercising dogs, you may not like it. Go onto the Santa Clarita volunteer website, there are new options every time like clearing hiking trails."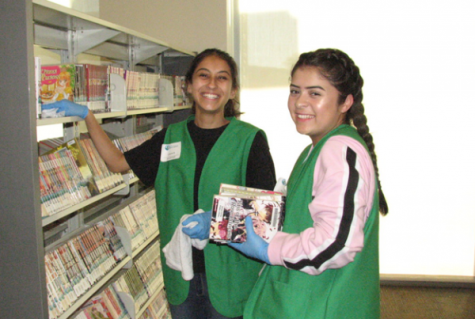 Science teacher, Mrs. James is also the NJHS teacher at Rio Norte. When she was asked if students should volunteer even if they are not in NJHS, she responded by saying, "Yeah, they can be active participants in the community." One thing that people might not know about her is that she volunteered in middle school. When she was then asked why she believes volunteering is important in middle school she said, "Volunteering helps you to be a helpful community member, learn new things, and interact with people."
Students who are 12 years or older are eligible to become an AYSO referee. AYSO stands for the American Youth Soccer Organization. As an AYSO referee, you can referee soccer matches in the U10 division if you're 12 years old. Referring to the U10 division means you will referee children who are 8-10 years old. The point of being an AYSO referee is to keep the game safe, fair, and fun for everyone. You are also not required to have previous knowledge of soccer, though it is recommended. Some steps you have to complete before becoming a referee are to first fill out a volunteer form, then take some safety courses online, and finally complete a coaching course for the age group you will be refereeing. You will be assigned to referee games on Saturday mornings until the afternoon, this process continues until the soccer season ends.
For people who might not enjoy being outside, and are 11-13 years old, you are eligible to help clean the Children's Area in the Newhall library. More specifically, you would help clean and wipe books, toys, and other items used by children in the library. Some important information to know before joining the cleanup is that pre-registration is required, wear comfortable clothes, since you will be moving around a lot, and if you want to help for multiple dates just pre-register for them. For more information, contact Beatris Bautista or call 661-799-6107.
If any of these opportunities don't interest you, you can go to santaclaritavolunteers.com. You might also want to add the "teen" filter to ensure you are volunteering for the right age group. There you can find one-time volunteer opportunities, like setting up for an easter egg hunt. You can find monthly opportunities, like clearing hiking trails. You can also find volunteer opportunities that don't have a fixated end time, like cleaning up a library. While it might be difficult at first to find places to volunteer, it's worth it to volunteer in the long run. You can help out your own community or others, and it can even benefit your own future when applying for college.