Gavin Lux
Gavin Lux is currently a position player for the Los Angeles Dodgers Major League Baseball team. Gavin Lux's 2023 was expected to be a breakout season. All of Corey Seager's and Trea Turner's expectations from the fans fell onto Gavin after they left for other teams in the past two years. Lux was the 2023 Los Angeles Dodgers' starting shortstop until he tore his ACL in a spring training game against the San Diego Padres. He was very loyal to the Los Angeles Dodgers, so fans are taking the loss of him for the season pretty rough.
Gavin Lux was born on November 23, 1997, in the small town of Kenosha, Wisconsin. He started playing baseball at a young age and fell in love with the sport. He went on to play for his local high school, Indian Trail High School and Academy. He would progress to be the star player of his high school and batted .560 his senior year. He also showed some pretty good defensive numbers, throwing 85 miles per hour in the infield. At the time, he was ranked the number two shortstop in the nation and committed to Arizona State after graduating in 2016.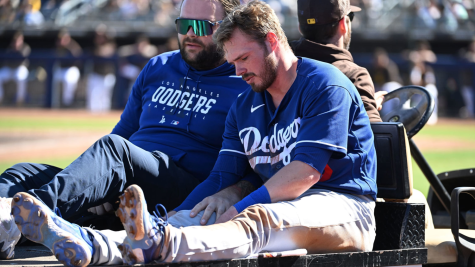 Even though Gavin Lux committed to a top D1 college, after being drafted in the first round and 20th overall in the 2016 MLB Draft by the Los Angeles Dodgers with a $2.31 million dollar signing bonus, he decided to go pro early. He started his professional career with the Arizona League Dodgers, one of the Dodgers' minor league affiliates. He would eventually get called up to the big leagues in a regular season game against the Colorado Rockies to play starting second baseman on September 2, 2019. In this game, he hit a single and a double, scoring three runs that game, in total.
In the short time Gavin played in the 2019 season, he managed to put up a .240 batting average, slugging .400, and a .305 on-base percentage. However, he barely had any time that season, with only a little over a month. With these great numbers, everyone had high expectations for his 2020 season because it would be his first full season. However, in 2020, Gavin put up 3 home runs, and a .175 batting average, although he only played 63 games. But at the time Gavin was only 22 years old, so prime would be nowhere near this time, and he was the number 2 ranked shortstop in the nation four years ago by Perfect Game USA, so there was still hope. In 2021, Corey Seager had 335 at-bats, more than five times as many as last year. He would end up batting .242 that season and an on-base percentage of .328. After Corey Seager left for the Texas Rangers for the 2022 season, Gavin Lux would have to play a lot of second base, with 421 at-bats. He would end up batting .276, a career-high, and slugging .346.
With Trea Turner leaving to play with the Philadelphia Phillies, the Dodgers lost two superstar shortstops in two years, so Gavin Lux was prepared to fill the role. In the 2023 spring training season Gavin would only have 6 at-bats, even though he played every game. In these 6 at-bats, he would put up a .333 batting average. Gavin Lux was living up to the Dodger's high standards for shortstops, and it looked like he was finally going to have that breakout season he really deserved. However, in a spring training game against the San Diego Padres, Gavin got on base and was running from second to third base. In the process the ball was coming straight for Gavin, so he tried to get out of the way. In the process of trying to avoid getting hit, he would tear his ACL. Gavin will now have to sit out the 2023 season, with the Dodgers now losing 3 shortstops in 3 years.
When asked the question, "How do you believe Gavin Lux's injury will affect the Dodgers' 2023 performance?" 7th Grader Jacob Nikkila says, "The Dodgers are missing a piece, he was very valuable and played a lot." Gavin was heartbroken and after getting the results from his MRI he said, "You put in a lot of work, and really enjoy the guys in the clubhouse. The hardest part is not being able to be on the field." Fans feel really bad for him and are sad that they lost their star player.