Top Shops at the Westfield Mall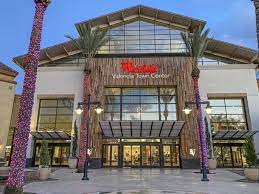 The Westfield Mall, located in Valencia is a very popular place where students and families go shopping, eat, and have fun. The mall first opened in 1992 and has hundreds of people stopping by each day. It includes many stores and places that students at Rio Norte love going to.
The most popular places people chose as their favorite places to shop included H&M, Sephora, and Urban Outfitters. 7th grader Lilly Huerta says, "I love the products at Sephora because the makeup is really cute and I wear it to school every day." Natalia Guerrero, a 7th grader at Rio Norte, mentions that she really likes H&M because "They always have my type of style and the clothes are very comfortable to wear". Karina Sevrugina, another 7th grader, says that "I love the clothing and the jewelry is amazing in Urban Outfitters".
Wetzel Pretzel, Potato Hut, and Panda Express are some of the most popular places students like to go by and grab something to eat. 7th grader Rafael Ramos shares, "After playing at an arcade, I got Pizza Bitz from Wetzel Pretzel, and it was good." Amelia Roxburgh, also a 7th grader who loves Wetzel Pretzel says, "They have very good cinnamon bites … It is just good. I get it every time and it always meets my expectations". Others say they enjoy the small fry booth Potato Hut, which is located in the middle of the food court.
Shopping at the mall comes with fun and interesting memories and experiences. 7th grader Alani Hagen shares that, "I had a good time when I went there for a birthday dinner and a shopping spree". Another 7th grader Sean De Vestern says, " I got ghost recon wildlands at game stop. But my little brother broke his arm on the play structure there". 7th grader Aubrey Barnett mentions that " I've gone to the arcade above the escalator with mostly friends and I had a really fun time there. We played on some of the arcades, simulators, and ball games". Two 7th graders, Rafael Ramos, and Natalia Guerrero, also share that they like going to the arcade as well.
Those are the most popular, favorite places students at Rio Norte like to shop and eat at. And the experiences they had at Westfield Mall. Which consists of H&M, Sephora, Urban Outfitters, Panda Express, Potato Hut, and Wetzel Pretzel.