Best Valentines Gifts to get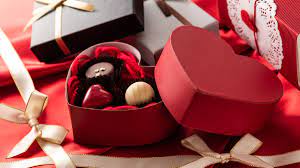 Valentine's day is coming up and it's a great time to get your loved ones special gifts. Getting gifts for your friends or family can show your appreciation and gratitude for one another. February 14 is a day of love, and that love can be for anyone.  Valentine's day started with Saint Valentine who preached the good word in Rome during the third century. Many people celebrate Valentines day by sending cards, letters, or giving gifts such as chocolate. Sometimes a better valentines day gift can be, spending time and doing activities together.
    According to research the most popular valentines gift is a heart shaped box of chocolates, but this year we can change it with a different more loving gift. If you don't have much money a great way to show your loved one you care is to make a love letter that they can read and feel loved.  One of the sweetest things to get someone is a nice comfy blanket to snuggle up with. 
   Restaurants are a sweet and fun way to spend time with someone. Some nice restaurants are California Pizza kitchen or even an ice cream place like Menchies.  Making food at home instead of going to a restaurant can save money and be fun to make food. 
    In addition to the best valentines gifts to get you is "Valentine's Day Gift Set For Women, Movie Night Popcorn Gift Set Valentines Day Gifts For Her, 10 Piece Set, 5 Gourmet Popcorn Kernels and 5 Popcorn Seasoning Flavoring, Kosher, Non-GMO Romantic Popcorn Gifts For Her" from amazon for $21.