Tyger Math Market
Math Market is a fun and interactive learning experience in which 7th graders can participate in selling, and 8th graders have a chance to buy products. Math Market is one of the most anticipated activities of the entire school year. Math Market makes the students either make or buy the products they are selling, this creates a lot wiser ways of spending their money. Many students have creative products like fingerboards or infinity cubes. Math Market helps with the student's understanding of not just math, but business as well.
The students have about five weeks to prepare, and they started the day students came back from winter break, or since January 9. Students are not necessarily guided in their work, more advised on what to do by the Team Tyger math teachers, Ms. Groller and Ms. Mandel. The students would work in teams of either 2, 3, or 4 people. The teams were only allowed to spend $10 for each person in their team on the products they would purchase.
To promote and advertise the team's products, the students would create posters or videos. Students would make the most appealing posters they could with their product and put them in many windows, in classrooms, and on pretty much all the doors. However, students didn't have to make physical posters, they could make videos as well. These videos could be posted online, but many were shown during the school's daily broadcast system, RioTV. To determine the price of the student's product, they would make online polls asking the students what a fair price would be for the product.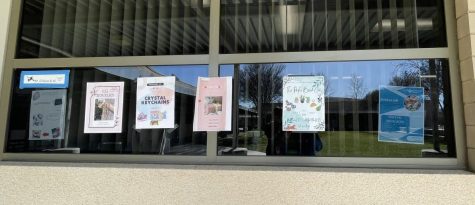 The main purpose of Math Market is the products. Students had about one week to determine what product they would sell. They had to determine and predict what item would create the largest profit margin. The students were given a maximum of $10 per person to spend on their product. However, some students didn't purchase the product. Some students thought out of the box and created their own products. This is like 7th grader Christian Gonzalez, that sold a fidget item called an "InfyCube". Instead of purchasing his product, one of his teammates 3D printed all of the product on his 3D printer at home, saving a lot of their spending money.
The main goal of this recent Math Market was to make a profit. According to one of the Team Tyger math teachers, Ms. Mandel, "Teams made an average profit of $50." However, the Team Tyger math teacher, Ms. Groller, said, "We had one group that got $0 in profits." All of the profits made by this year's math market go right back to Team Tyger. Ms. Groller also states, "The profits go back to Team Tyger and we're going to do a fun activity towards the end of the year."
The most anticipated day of every math market is the day they can sell their products. This year, tons of students went to the math market to look around or buy students' products. One of the students, Chrisjan Torok, was able to sell out all of his Tech Deck products because it was in high demand while many other students weren't able to sell out since it might not be an appealing product for some students. At the end of the day, the students gave their earned money to the teachers and filled out a paper form.
Math market is an exciting experience for many people and has been shocking for students. Team Tyger has done a great job on the math market and students on the team have made and produced really creative products. Coming up, there should be some excitement to see the Team Tambo math market and what products their students will sell next. Also, there's hope that Tambo's math market is like Tyger's fun experience next.