Ms. Grandbois – Teacher Spotlight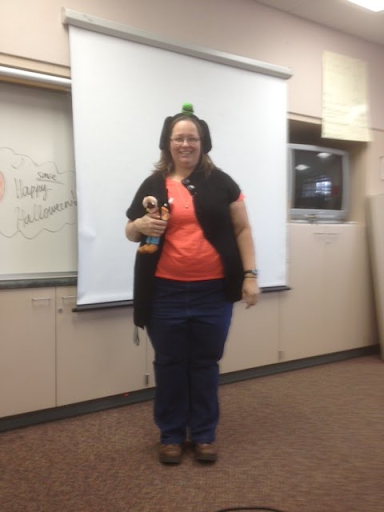 Kimberly Grandbois has been a teacher at Rio Norte since the school opened in 2003. Ms. Grandbois is a Math 8 teacher known for also being a horseback rider at Rio. She also teaches beginning and advanced Spanish, and elective on campus. According to Ms. Grandbois, "it is easy to walk a horse but more challenging to ride one." Her favorite horse Bandit is the best horse in Ms. G's ranch she visits daily. Sadly the ranch had recently caught on fire bringing down the place as well as killing two horses that couldn't make it out in time. The ranch owner also got burnt saving a pregnant horse that was too scared to leave its room.
She is a big Dodgers fan and has bobble heads of all the players in her classroom. Ms. G always talks about her brother whom she loves so very much. She loves to be with her family and tries to be with them as much as she can. Ms. Grandbois was born in Kansas and is also a fan of the Kansas City Chiefs, a football team. She teaches for her students and her interest in educating not for the money. Ms. G "…likes students who are quiet and do their work."
Ms. Grandbois had a wonderful experience as a child. She always had a passion for animals  and her dad lovingly called her "Kim loves Cows." If she received one million dollars she would pay off her student loans and give money to her parents and her brother. She wouldn't buy her favorite car a Chevrolet or even buy her favorite horse Bandit, who she visits every day. Ms. Grandbois is an inspirational teacher who cares about her students more than she cares about herself. Australia is somewhere she wants to visit and her  message to the world would be, "Be kind, everybody matters." Ms. G emphasizes that message when teaching, which is another reason why she is a great teacher.
Overall Ms. Grandbois is an amazing teacher and if you want to contact her you can visit her in room B-7 or email her at [email protected]!