School Shootings, And Other Safety Measures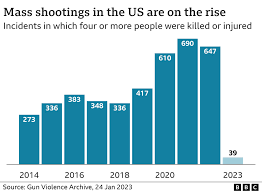 There have already been 8 school shootings this month as of February 7th. School shootings, or any disaster can happen anywhere, so there is a chance it can happen at Rio or even once you go to Valencia or Saugus.  
Mrs. Burns, a Rio Norte Counselor recommends students should get to safety as soon as possible. Mrs. Burns said herself, "If the closest thing is getting off campus, students should jump the fence and run away. " In any type of emergency the fastest way to get to safety is the right way. No matter how hard you try you can never truly prepare yourselves for a shooting, but by doing the drills with the school it becomes muscle memory and makes life a lot easier when you have to remember what to do. Another thing Mrs. Burns recommends is finding out which direction it's coming from so you can get somewhere safe in the opposite direction.
Another safety measure is if a student were to get shot every classroom has the Stop the Bleed Kits, made by sisters, Maci and Cambria Lawrence. Stop The Beed Kits are accesssible in every classroom on campus, if you want ask your teachers where it is in your classes.
All within a plastic easy-open, pill-shaped container, the kit will consist of:
–      2 military grade tourniquets to stop bleeding from an arm or leg
–      1 compression dressing (much like a specialized ace wrap)
–      1 QuikClot Gauze (special gauze that helps the body form a clot, stopping bleeding)
–      1 survival blanket (cold people tend to bleed more)
–      1 pair of trauma shears to cut away clothing and get better access to the wound
–      1 pair of gloves for personal protection