Taylor Lautner Went To Rio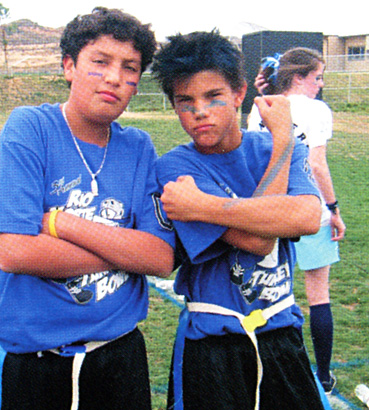 Taylor Lautner is a famous actor from the Twilight Saga. Taylor Lautner grew up in a small town in Michigan called Grand Rapids until he moved to Santa Clarita to pursue acting. When he moved to Santa Clarita he went to Rio Norte Junior High and Valencia High. Lautner participated in school events like the Turkey Bowl. While being out of school for months at a time, he filmed many small roles like commercials and was an extra in TV shows. The first hit movie that put him on the map is the children's movie Shark Boy and Lava Girl. He was filming this while being a student at Rio Norte Junior High from 2005-2006.
When coming back from filming Shark Boy and Lava Girl, Lautner faced many social problems. His science teacher, Mr. St. Peter said that the only reason people wanted to be his friend is that he was famous. He faced people bullying him for being an actor. In an interview, he stated, "I just had to tell myself, I can't let this get to me. This is what I love to do. And I'm going to continue doing it,". While Taylor faced many problems, so did his sister Makena. While Makena was in the 7th grade, Taylor had just come out with his groundbreaking movie, Twilight. Mr. St. Peter said that Makena faced more social problems than Taylor because the movie was incredibly popular at the time of release.
Taylor Lautner started filming Twilight in March of 2008. While this is a low-budget movie, it took 44 days to film. Some of his co-stars are Robert Pattinson playing the role of Edward Cullen and Kristen Stewart playing the role of Bella Swan. In the next Twilight movie, New Moon, Taylor became more of the lead actor.
Currently,  Lautner is 30 years old and is married to Taylor Dome, now known as Taylor Lautner. They got married in 2022. His most recent movie is Home Team shot in 2022. Before gaining the fame he has today, Taylor Lautner set down roots in Santa Clarita. And the fact that they were set at our school, Rio Norte Junior high, makes it even better.