Benefits of Cheer
Cheer is a popular sport that a lot of people love and it's big around the world. There are a lot of benefits to cheer including, teamwork, it helps with fitness, mental strength, confidence, self-esteem, and social skills. There is also conditioning, which helps with upper body strength. Physical fitness helps with flexibility.
Mental strength is very important when it comes to cheering. Research shows that the view that athletes rated high in mental toughness generally participate at higher levels of competition, achieve more, and produce better performances. Also, emotional well-being is important to any athlete's success academically, athletically, socially, and spiritually.
Another benefit when it comes to cheering is confidence. You want to make sure you have confidence inside the gym, and at competitions. Self-confidence allows athletes to thrive in their environment. Self-confidence gives athletes the belief that they can overcome obstacles, and they can reach their goals.
One of the most important benefits is conditioning. Body conditioning improves endurance, increases flexibility, and establishes a balanced, stable physique. Proper strength and conditioning allow athletes to strengthen supporting muscles. Conditioning also helps with upper body strength, and it helps a lot with stunting because you are constantly lifting someone up the conditioning pays off during tumbling because you need to have strong arms.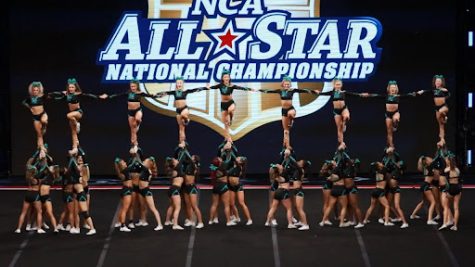 Mrs. Carrizales, a P.E. teacher at Rio Norte stated, "A couple of benefits I can think of is being part of a team and involved in something. That's most important. Second, if you are in competitive cheer it can be a decent workout for exercise." To sum it up, being part of a team such as a cheer team can help build your teamwork skills and help you work better with other people. While cheer is a very demanding sport, there are also many benefits that go along with it.