Teacher Spotlight – Mr. O
Mr. Owston – better known as Mr. O – is the 7th and 8th-grade drama teacher. As there are several Mr. O's here at Rio Norte, you can recognize this one with his constant positive energy, cheerfulness, and Ohio State Buckeyes attire. Mr. O actually is new to Rio Norte and fairly new to teaching in general. He was a substitute teacher at Hart High School before and this is his first year "in a classroom environment".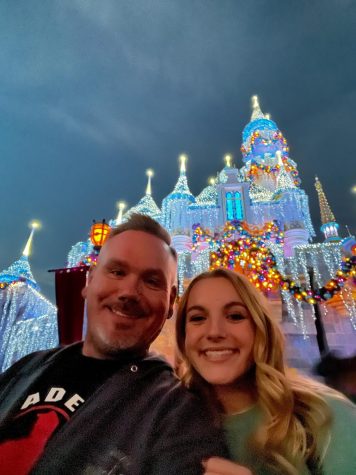 When our last drama teacher, Ms. Hubbel, left the school, there wasn't another drama teacher. Mr. O explained that there was just an opportunity for him and he took it. So, pretty much, he's been teaching full-time since August of 2022. However, he's been doing drama on his own for about 30 years. Mr. O simply loves theater and has been doing it his whole life. Now, he says he's able to share that inspiration with his students. Mr. O stated, "I'm not here to teach drama. . . I'm here to teach self-confidence."
Some of Mr. O's favorite hobbies are woodworking, carpeting, hiking, cooking, spending time with his family, building and spending time around campfires, going to Disneyland, and more. He also explained how he actually has his own woodworking company. In general, he loves "anything [he] can do with [his] family". As we're getting close to the holiday season, Mr. O loves decorating his house and going all-out on Halloween and Christmas.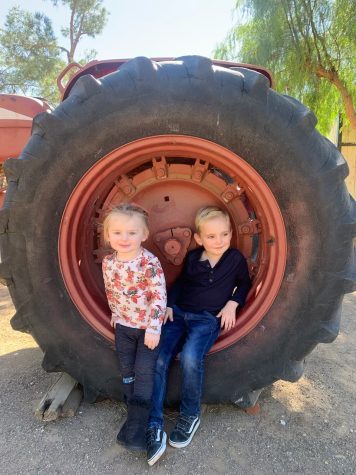 Mr. O and his wife have 3 kids – their oldest is 15 and a sophomore at Hart High School, their middle son is 4, and their youngest daughter is 2. Not to be forgotten, they also have Lucy, a German Shepard. "Yup, she's our 100-pound puppy," says Mr. O. He and his family have been living here in Valencia for about 20 years; he is originally from Detroit, Michigan. This is a little bit ironic because he is always wearing his jerseys and walking around with Ohio State cups!
Going back to theater, Mr. O's production drama class is putting on a special play for us in April – Peter and the Starcatcher. This is a Broadway show and also a novel that is really fun and exciting. Mr. O says the play they're doing is actually going to be very similar to the novel. He and his students are probably very excited to do this play and it should be a big hit! Speaking of students, 8th grader Graham Denlea said, "Yeah, he's funny and he makes class fun," when asked what he liked about Mr. O. Graham would also like to say, "Hi Mr. O, thank you for being so great!"
In the end, Mr. O definitely wins the "funny-positive-cool-new-teacher" award. If you have any questions about drama, woodworking, or Ohio State, you know which guy to go to! Also, you can email Mr. O at [email protected] or talk to him in the drama room right next to the back gate.