Rio Turkey Bowl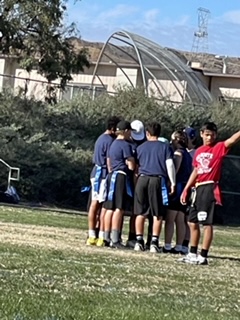 Friday, November 18, 2022 the annual Turkey Bowl took place at the lower fields after lunch. The 8th graders were divided into two teams, red and blue. The final score was 28-12 the red team won. 8th graders were able to sit in the grass and watch the football game right in front of them. Asb was selling cookies and lemonade for game snacks. There were cheerleaders for both teams of about 23 people, and each football team consisted of about 27 students. 
Students on the blue team are: Brady Ruffner, Jayden Carty, Charles Goodman, Chris Lane, Dasen Rogers, Logan Norsworthy, Hudson Sanders, Ali Eldien, Kaleb M., Victoria Tejeda, Samaad Brexton, Ayden Chapleau, Noah Ashenfelter, Colin Odom, AJ Printsian, Carlos Saygayap, David DeLaTorre, Tanner Scott, Andrew Windsor, Henry Kirschner, Ryan Nguyen, Will Stone, Jayden Degarcia, Nikolas Martinez, Chase Martin, and Anthony Katchikian. 
On Team Red: Mitchell Nowakowski, Zack Eltom, Ciro Karapetyan, Shepard Swihart, Steven Irons, Sebastian Alvarado, Aiden Chroman, Jayden Hayes, Carson De Leon, Justin Sercena, Timothy Avila, Alexis Plante, Chase Devoll, Jeremy Gurne, Tennysen Enneking, Vincent Weber, Robert Toefer, Sienna Darland, Cooper Bolder, Reese Houstan, Jonathon Torres, Luke Ammerman, Trevor Lasaca, Romel McCoy, Nathan Esparza, and Rocco Testa. 
Lastly all the cheerleaders: Diya Boini, Marley De Gracia, Kayla Fujishima, Aria Green, Bailey Haydammack, Mckenna Moon , Lily Navarro, Londyn Rogers, Sammantha RomeroAnna Stefanovic, Elise Taoatao, Madeline Teague, Madison Thomas, Kaylin Ward, Katelyn Beaver, Emelia Burkhard, Aly Castro, Stella Cazares, Brooklyn Chadwick, Savannah Diaz, Kylee dy, Faith Givens, Valeria Iglesias, Avani Kashyap, Mckenna Leake ,Oli Lewers ,Cali Mata, Mckenzie Medland, Kassandra Morales, Ivan Morgenstern, Harper Morris,Tegan Nakamura, Danni Reaves, Omar Reza, Ivana Sason, Camila Arellano, Gracyn Ballsman, Leila Barton, Ava Beeman, Isla Bruner, Aarna Bunyan, Isabella Falcone, Scarlett Greenway, Erin Perez, Janani Prakash, and Calvin Stimac
Another important part of the Turkey Bowl was the snacks. The snacks were a fundraiser for all electives, especially art. The students, Mrs. Prieto, and Art James organized it and they raised $400 according to Mrs. Prieto.
7th grader Benji Chon said " That Chase Devoll was the best player on Team Red, and that Ayden Chapleau is the best player on Team Blue. " However 8th grader, Madisyn Cervantes said, "The best team was red and their best player was Ciro Karapetyan." 7th grader Tyler Lord said " Chase Devoll was the best player on Team Red, and that Chris Lane was the best Player on Team Blue."