Rio Norte's Favorite Christmas Movies
You know Dasher and Dancer and Prancer, Vixen, Comet, Cupid, Donner, and Blitzen, but do you recall your favorite Christmas movie of all? According to Screen Rant, the highest-grossing Christmas movie of all time is The Grinch with $512 million. While collecting data, it seems Rio Norte has a different opinion.
In the month of November, students and teachers were asked what their favorite Christmas movie is. In the first place, we have Home Alone at a whopping 36.5%. Aiden Illingworth said, "Every time I watch it, it always makes me laugh." 7th grader Logan Hicks exclaimed, "The kid! He is actually the best character in the movie, he's a menace! He tricked all the bad guys like he was the boss! I actually love him!" Elf comes in second place at 23.1%. Yellowstone science teacher Science James stated, "I love Will Ferrell, this whole movie makes me laugh so much. I honestly have Elf pj's, magnets, mugs, & cups." Bodie Johnson commented, "It is hilarious. And I love Will Ferrell. He is always in such a good mood in the movie."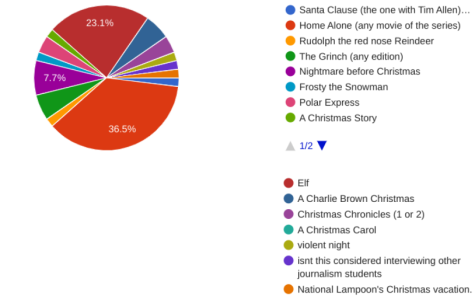 Home Alone, starring Macaulay Culkin, is about an eight-year-old who finds out a pair of burglars are going to rob his home when he is accidentally left home alone by his family during their Christmas vacation. The movie has grossed $476,684,675. Rotten Tomatoes (a review site for movies and series) reviews this movie with 67% on the Tomatometer and they say "uneven but frequently funny premise stretched unreasonably thin is buoyed by Macaulay Culkin's cute performance and strong supporting stars."
Elf is about Buddy, an oversized elf, who travels from the North Pole to New York City to meet his real father who doesn't know he exists and is in desperate need of some Christmas spirit. This movie has grossed $225,097,437. Rotten Tomatoes reviews this movie with 85% on the Tomatometer and they say "A movie full of Yuletide cheer, Elf is a spirited, good-natured family comedy, and it benefits greatly from Will Ferrell's funny and charming performance as one of Santa's biggest helpers."
Both of these movies are a good way to get in the holiday spirit. They are both funny in different ways and are just good all around. Also making the top five in Rio's list are Nightmare Before Christmas, A Charlie Brown Christmas, and The Grinch. Have a Merry Christmas and to all, a good night!