Popular Places to Hang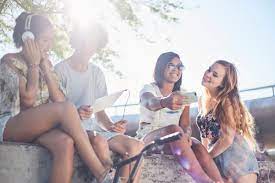 Most Popular Places for Teens to Hang Out-
Most of today's population teens and tweens love to hang out after school or on weekends. All teenagers are different. But many enjoy spending their free time doing things like shopping, going to parties, being with friends, gaming and using social media, texting, watching movies, reading and going to the beach or park.
About 80 percent of middle and high school students take part in organized activities after school with friends or on weekends, and most of these young people have something scheduled nearly every day. Teens and Tweens mostly hang out at Six Flags, The movies, The mall, Ice Skating, and Mb2. Six Flags Magic Mountain is known as the "Thrill Capital of the World," and the 260-acre theme park features record-breaking, world-class roller coasters and over 100 rides, games and attractions for the entire family and was voted by USA TODAY readers as America's Best Theme Park.
Teens like going to these places because most the time its a place to get away from home with no parent supervision. Good friends and friendships are important to pre-teens and teenagers because they give them a sense of belonging and being valued by people other than their family. It helps young people feel a sense of acceptance and belonging. They support the development of compassion, caring, and empathy, and they are a big part of forming a sense of identity outside the family.