The Best National Parks Near Us
The most beautiful national parks could be found right here near us. National Parks are natural environments that are preserved and protected by the national government. If you are looking for a gorgeous place to visit, then a national park is the perfect place. National parks have many features that make them gorgeous including lakes, rivers, mountains, forests, and even oceans. 
Zion National Park
 Zion National Park, the 232-square-mile plateau is a maze of narrow, deep sandstone canyons and the Virgin River and its tributaries. Zion also has 2,000-foot Navajo sandstone cliffs, pine and juniper-covered slopes, springs, and waterfalls that support lush and colorful hanging gardens. Zion is located in Utah and is an estimated 7 hour drive but is also accessible by plane which is about 3 hours from LAX to St. George Airport. Zion has a high temperature of 78 degrees and could get as low as 48 degrees. It has about 113 hiking trails and the most popular include Angel's Landing, Observation Point, Emerald Pools, West Rim Trail, and Pa' Rus Trail. Zion is an appealing place with many natural features.
Sequoia and Kings Canyon National Park
Sequoia and Kings Canyon National Park is a 1,351 mile national park in California with large mountains, rocky slopes, deep gorges, enormous caverns, and the largest trees in the world with life everywhere. It is about a 3 hour drive and is best to go during the summer months with the best weather. Some attractions include General Sherman Tree, one of the biggest trees in the world, Mount Whitney, Crystal Cave, and Mist Falls. It gets as high as 56 degrees and as low as 4 degrees. 
Joshua Tree National Park
In Joshua Tree National Park, the Mojave and Colorado desert ecosystems which are two separate desert ecosystems meet. In a landscape that has been shaped by powerful winds and frequent downpours of rain, a large range of plants and animals call it home. Joshua Tree is about 3 hours from here and is most popular from March to May and October through November. It is one of the only places in the world with actual joshua trees and are not actual trees. They are yucas that grow like trees and have clusters of spikes. Some hiking trails in Joshua Tree national park include Arch Rock Nature Trail, Mastodon Peak Loop Trail, Split Rock Loop Trail, and Skull Rock. Joshua tree's weather is very hot and arid during the summer and freezing during the winter.
Bryce Canyon National Park
Every continent has hoodoos (irregular rock columns), but this region has the highest number of them worldwide. The Grand Staircase National Park is located along a high plateau at its summit. The park's high elevations are home to a variety of life populations, amazing dark sky, and geological wonders that go beyond description. Bryce Canyon is one of the farther locations on this list. It is located in Utah and is about an 8 hour drive from here. It is also accessible by plane. Bryce Canyon is most popular during the summer time and is very dry. Some attractions include The Navajo Loop Trail, The Bryce Canyon National Park Sunrise and Sunset Points, The Queens Garden Trail, and The Lodge at Bryce Canyon.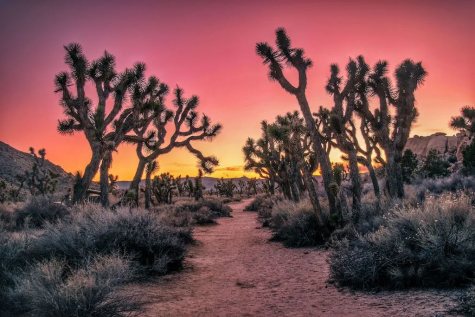 Yosemite National Park
Yosemite National Park is best known for its waterfalls, but it also covers nearly 1,200 square miles of deep valleys, vast meadows, ancient giant sequoias and vast wilderness areas. Yosemite is a 4 hour drive and is most popular during the summer months. Some attractions include Half Dome, Yosemite Falls, Glacier Point, and Yosemite Valley. Yosemite National Park is famous for its impressive waterfalls, meadows, cliffs, and unusual rock formations.
In conclusion, national parks are beautifully unique. They have features like mountains, trees, lakes and are amazing parts of nature. If you are looking for a calm and peaceful place, one of the parks on this list is the perfect place to visit.