Friday the 13th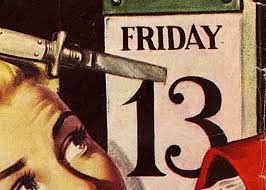 Walking under a ladder, seeing a black cat, glancing at a rotten corpse on the sidewalk, breaking a mirror as soon as your reflection hits it, these are all superstitions that mainly arose because of Friday the 13, which takes place this month. The entire belief could have come about because of two main theories. One is from a Norse Myth, where 12 gods had a party in Valhalla. The 13th guest was the trickster god Loki, who had come uninvited and wreaked havoc on the get-together. The second theory is a Christian belief which took place on the Last Supper. There were 13 guests at this party, and it is said to be the last day before Jesus's death.
Now, 13 is just an unlucky number in general. People try not to host any important events on this date, most buildings don't have a 13 floor, and some planes don't even have a 13th row. This entire fear has become so widely spread that there is even a name for it, "triskaidekaphobia." Along with the ones mentioned before, there are a lot of superstitions about this day. Some believe that it's bad luck to comb your hair or get a haircut on this day because if a bird uses your fallen hair to make a nest, you might go bald. A few other  superstitions include not walking under a ladder, breaking a mirror with your reflection, and knocking over salt, which all result in 'bad luck.' Even horror movies are mainly centered around this day, like the popular "Friday the 13th" franchise, which comprises 12 different films, along with novels, video games, and figurines. Although there are many negative thoughts surrounding Friday the 13, there are also a few positive beliefs that go along with it.  Before unlucky events took place on this day, it was considered the day of the goddess, Venus. The day Friday itself is considered Venus Day, and she represents femininity. Some believe that the goddess's energy is present at the end of the week (Friday) to remember the days that have gone by and as a reminder to relax and enjoy the rest of the days to come. Issabell Bet, 7th grader here at Rio Norte, says, " I think it's really interesting how all these cultures have superstitions around Friday the 13th and specifically the number 13. It's quite spooky actually."
Although this day can seem a bit spooky, it's good to remember that bad luck isn't the only thing that can take place. But, if you have some fears about this day, make sure not to knock over salt, step on a rotting corpse, or walk under a ladder! Happy Friday the 13th Riverhawks!